Mike Norvell reveals what Florida State's 3-0 start can do for recruiting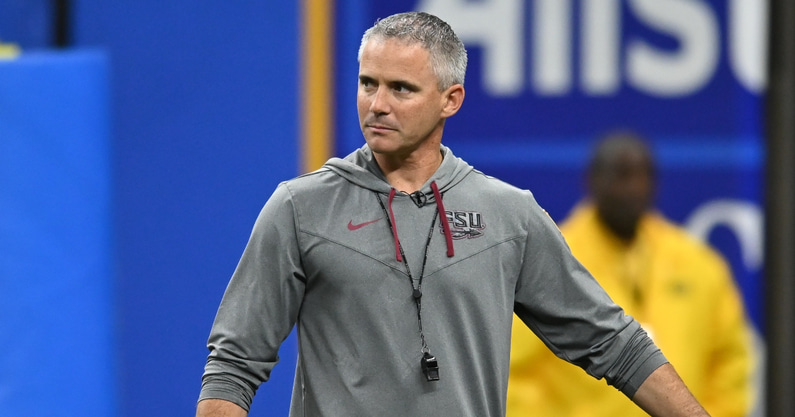 Mike Norvell has Florida State rolling at the moment, sitting at 3-0. Getting huge wins against LSU and on the road against Louisville, the Seminoles are now entering the thick of ACC play, hoping to continue the momentum. It's not just on the field positives Norvell is enjoying but in the recruiting world as well.
Norvell was asked what the three wins to begin the season means for recruiting, saying everybody is excited to see the Florida State program develop. He looked back on past recruiting classes as well, explaining how a plan is laid out for every single player.
CLICK HERE to subscribe for FREE to the On3 YouTube channel
When talking about the future, he said recruits are "excited" to see how the Seminoles will continue to progress.
"It's exciting for everybody to get to see the identity, the foundation, the playmakers we have within the program and how we're able to utilize them," Norvell said. "So when it comes to recruiting — you always lay out a vision and a plan for each individual. It's per individual, it's very specific to the young man.
"Finding the right fit for Florida State but when they're able to see themselves in what we're doing. They see the steps, the growth. We've had two wins on the road in very good atmospheres and talented teams. It's exciting for recruits to see the progress that we're making."
CLICK HERE to subscribe to the On3 YouTube channel today for all of the latest news on college football, recruiting, NIL, and more!
Mike Norvell thinks the best is yet to come
Even with the early success, Norvell still thinks the best is yet to come on the field. Which means, there is just going to be more excitement within the recruiting world. The head coach said there's a "great buzz" around Florida State at the moment.
"I told our team, we still haven't played our best game yet. We're still early in the process of where we're going and what I believe we're capable of but recruits are excited about it. We're excited for being able to showcase the opportunity that is here at Florida State. There's definitely a great buzz around the program and the young men that we're recruiting as well."
At the time of writing, Florida State has the 20th ranked class in the 2023 cycle, good enough for No. 4 in the ACC. They have been trending per the On3 RPM for five-star wide receiver Hykeem Williams as well, who is set to make his decision Friday at 1:30 p.m.
Norvell's recruiting pitch is only going to get better if Florida State continues to win. The opportunity is in front of the program.