JD PicKell tabs Jordan Travis as key to Florida State's next step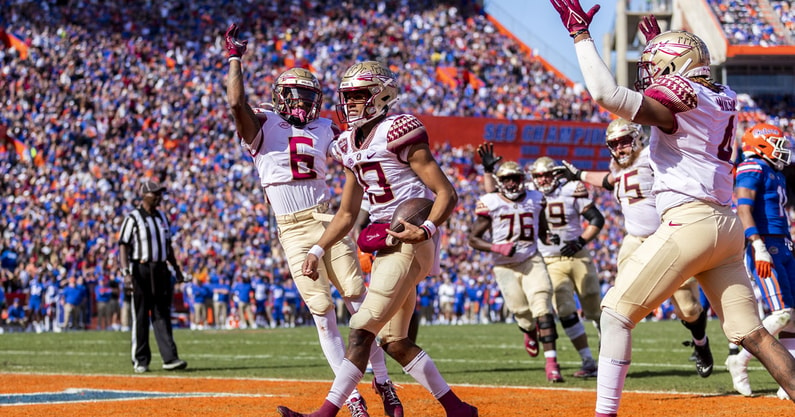 Florida State won 10 games in Mike Norvell's third season at charge, begging the question of whether the Seminoles are ready to take the final step and emerge as a true national contender going forward. Quarterback Jordan Travis is the key to that question, according to On3's JD PicKell.
PicKell explained his rationale on the On3 YouTube channel this week.
"He took a big leap from 2021 to 2022," PicKell said of Travis. "His numbers — we've talked about it before on this show, we'll do it again — 15 touchdowns, six interceptions, seven rushing touchdowns. Not bad, not elite in 2021. In 2022: 24 touchdowns, five interceptions, seven rushing touchdowns. So you still have the production on the ground, but he added more through the air, he made better decisions. I am very excited about his maturation."
Travis was one of the nation's top quarterbacks and will go into 2022 as a Heisman Trophy favorite.
If he can become even more efficient than he was this year as he helped guide the Seminoles to a 10-win season, Florida State could be knocking on the door of the College Football Playoff.
"Florida State's going to be really good because the number offensively I think they need to be right around is 38-40 points per game," PicKell said. "Now that is elite. That is a high standard to set. I'm not saying they can't do it at what they did last year, at 35 points per game, obviously that's a very good production. But if they could be right around 38 or 40 I think they have a chance to take that next step."
Jordan Travis the key to Florida State taking next step
PicKell explained why he thinks Florida State becomes a national contender if it can average around 40 points per game.
Just look at what that meant in 2022.
"If you're scoring around 40 points a game, the offense has to catch you," PicKell said. "The opposing offense has to be able to keep pace with you. And there were games where that happened to Florida State. There were games where they scored I believe it was 40-plus against Florida and that was the difference-maker. Florida was having a great day offensively, they were running the football really well, didn't matter. Jordan Travis and Co. were having their way. Kind of the same thing we saw against Oklahoma in the bowl game. Jordan Travis, Johnny Wilson had a day at the office and that was the difference."
Will Jordan Travis be able to take that next step? That's what PicKell will be watching.
"Can that be consistently who you are? Can that consistently be the gameplan you're able to bring to the table?" he said. "Because the defense is going to be able to get it going. Can the offense be elite? I think that's the first thing I'm looking at for styles of game they can win, styles of game they can play, I would love to see them be in that 38-40 range to be in the next tier of the college football landscape."