Greg McElroy: Keon Coleman adds to Florida State team poised to make a run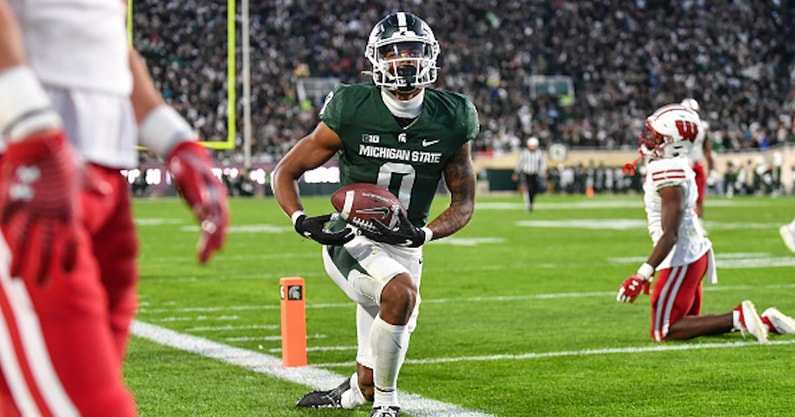 Keon Coleman came to Florida State at just the right time, according to ESPN's Greg McElroy. The transfer wide receiver left Michigan State for Tallahassee.
After last season's success, the Seminoles could make a run with the playmakers at their disposal. Coleman joined Johnny Wilson in the wide receiver room and Heisman candidate Jordan Travis will throw the football.
That's, on paper, a recipe for success for Florida State with the addition of Coleman.
"I feel like Florida State, the last couple years well last year, excellent at wide receiver the year before, not so much," McElroy said on Always College Football. "But they've done a really good job of going out and attracting guys that could be major difference makers. Keon Coleman's the next in line. I was surprised, frankly, that he was favoring Florida State in the process reading through some of the tea leaves the last couple of weeks because they'd already added Jaheim Bell, who is I think going to be one of the better, more versatile playmaking weapons in the ACC this year …
"Of course Johnny Wilson's already in a position right there to be the No. 1 receiver, arguably, in the ACC. I mean, he's got great length (and great intangibles)." 
McElroy also mentioned how Coleman could fill the void left by Florida State's departed players.
"You lost Mycah Pittman, but maybe Keon Coleman could fill that void a little bit. Even though Pittman didn't impact the game as much as we thought he might last year. So I think Florida State's poised to make a really nice run and hopefully Keon Coleman can draw some of that attention away from Johnny Wilson when they get in the red zone. 
"Because two guys that are six-four and Johnny's like six-seven, those are going to be some matchup nightmares in the red zone when you play against these teams in the fall."
In 12 games last season, Coleman finished with 58 catches, 798 yards, seven touchdowns and 13.8 yards per catch. He had just seven catches for 50 yards and a touchdown in 2021.
If last year's production is any indication, Coleman will surely boost Florida State's stock.
As a member of the Class of 2021, Coleman was a four-star recruit out of Opelousas (La.) Catholic School, according to the On3 Industry Ranking, a weighted average that utilizes all four major recruiting media companies. He was the No. 13 overall prospect in the state, the No. 57 wide receiver in the class and the No. 368 overall prospect in the class.