Mike Norvell challenges linebacker Amari Gainer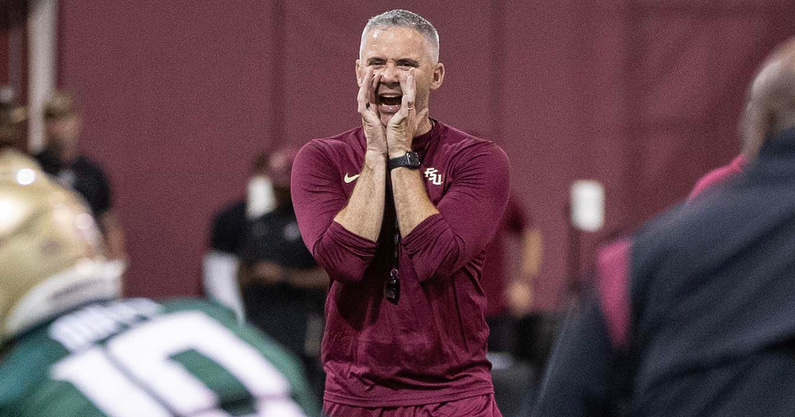 Florida State head coach Mike Norvell met with the media after fall camp practice on Monday and revealed the staff has issued a challenge to redshirt junior Amari Gainer. One reporter pointed out the apparent growth in the Seminoles linebacker since last season, to which Norvell responded: "Good eyes."
"We challenged Amari in a couple of ways, just things that we know that he can be better at," Norvell said after practice on Monday. "He's making that investment. When you look at the last five days, he's a guy that's continued, had a good spring, I think he's really taken some positive steps here. Excited about what he's doing and his further growth."
After three years as a contributor for FSU, Amari Gainer opted to return for another season in Tallahassee this offseason. Since making that decision, he's answered the staff's challenge and could be in for a draft stock-boosting season.
On his career resume, Gainer has 193 tackles, 17.5 tackles for loss and five sacks. The 6-foot-3, 230-pound linebacker has also forced four fumbles. His best year statistically came in 2019, when he had 69 tackles, seven tackles for loss, 3.5 sacks and two forced fumbles.
In 2022, Gainer ranked fifth on the team in tackles with 59. He also contributed on special teams for over 100 snaps. His return, as well as DJ Lundy's, was big for Norvell who could use experience and leadership as he faces another year on the hot seat.
This offseason, the Seminoles linebacker room gained another experienced weapon in UCF transfer Tatum Bethune.
Gainer is from Tallahassee and had numerous Power Five offers coming out of Lawton Chiles High School. His father played wide receiver at FSU in the 1980s, and his mom went to FSU as well.