Mike Norvell details tampering attempts Florida State has dealt with this spring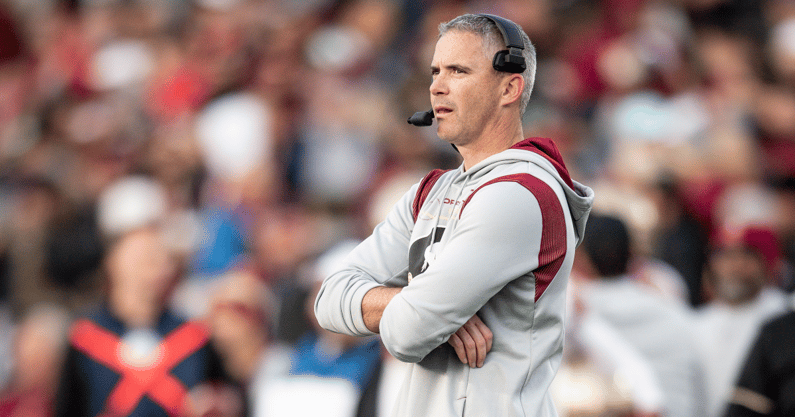 Accusations of tampering have been rampant throughout this college football offseason, and Florida State is one of many schools impacted. Seminoles coach Mike Norvell made an appearance on the ACC Network's Packer and Durham show Tuesday morning, where he detailed tampering attempts from other schools against his own players.
"We had conversations, there were a couple guys on our team that have had people from the outside talking," Norvell explained. "They were not in the portal, but they're trying to make decisions on certain things for their future. That's what's unfortunate. But grateful for the guys we have and the team that we're going to be able to move forward with. But for college athletics, we want to be together here moving forward."
Norvell did not mention any specific Florida State players who received offers from other schools as a result of the alleged tampering.
The NCAA released new guidelines for its NIL policy on Monday, clarifying the current rules and prohibiting boosters from recruiting. Many believe that boosters across the country are disguising "pay-for-play" schemes using NIL collectives, enticing players to enter the transfer portal with offers sometimes worth millions of dollars. The NCAA clarified Monday that NIL collectives are seen as boosters through the organization's legislation and, as such, are also prohibited from contacting players or recruits in an attempt to provide compensation.
Most recently, Pittsburgh star wide receiver Jordan Addison put his name into the portal and rumors swirled of an NIL deal waiting for him if he heads to USC. Those rumors started before Addison entered the portal, which is why Pitt coach Pat Narduzzi accused USC and coach Lincoln Riley of tampering.
Boston College standout wide receiver Zay Flowers told ESPN that he received multiple six-figure offers to transfer elsewhere from people loosely associated with other schools' name, image and likeness collectives. He turned down these offers and elected to stay with the Eagles.
As a result of many complaints against such behavior, SEC commissioner Greg Sankey and Pac-12 commissioner George Kliavkoff met with US Senators this past Thursday to discuss federal NIL legislation. Many were hopeful the meeting could bring change in the near future, and Norvell agrees that new rules are a must.
"There are things going in college athletics that definitely have to be changed," Norvell said. "It's unfortunate when you hear and see and experience things of outside entities being involved in that part of this game. Because that's not college athletics. That's not what it's supposed to be. It's unfortunate that some of these young men are being put in those situations to even have to be able to make those decisions."