Mike Norvell discusses the impact of Jordan Travis' leadership off the field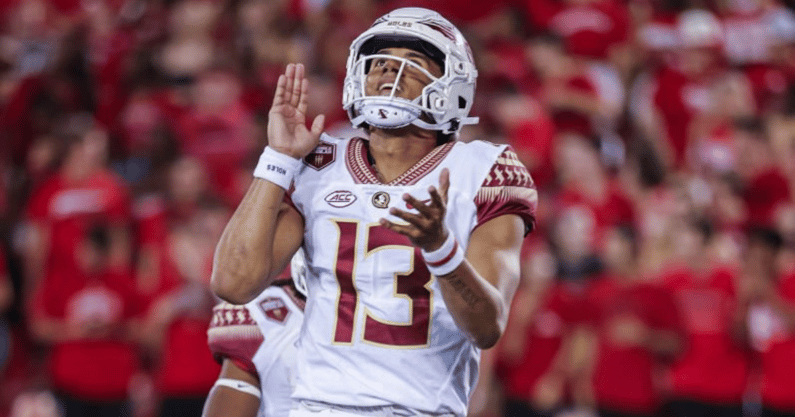 Jordan Travis has earned a ton of respect from his teammates from his play and leadership in their undefeated start. On the field, he made massive plays to help Florida State to their dramatic win over LSU. After an injury took him out of their win over Louisville, though, it was his leadership on the sidelines that took center stage. Whether you look at him as a player or a person, Mike Norvell says that speaks volumes of his quarterback.
Norvell spoke on Travis' leadership after practice on Wednesday. He says it's a role he has always thought Travis would be great for because of how he feels about his teammates.
CLICK HERE to subscribe for FREE to the On3 YouTube channel
"I think (leadership has) always been in him. I really do," said Norvell. "When you care about people, whatever your role is, you want to be there to support them and be there with them. When you are a leader, it obviously has a huge impact."
Travis has thrown a 67.7% completion rate for 624 yards and four touchdowns thus far this season. While his play has been much improved, it's what we saw in Louisville that truly characterizes Travis. When escaping a sack in the second quarter, Travis was injured and missed the remainder of the game. However, he was a voice on the sideline for the offense and backup Tate Rodemaker to listen to. That vocal leadership helped FSU to a second-half rally that led to the 35-31 ACC road win.
Norvell appreciated Travis' persistent leadership, even while injured, after the win. It's something that says a lot about Travis as well as the foundation that Florida State is building on.
"We talked about the second half and that's where he never went away. He wasn't able to cross the sideline but he was still there and present," said Norvell. "That's where you see that cohesiveness and that team really come together when you have a team that's built on that."
Travis' availability for this weekend's game against Boston College is still unknown. He left Louisville on crutches and in a boot yet all signs have pointed to positive news for Travis this week. Whether he's on the field or the sidelines against the Eagles, though, Norvell knows his QB will play his role to a tee.