Mike Norvell explains how good practice translates to a good gameday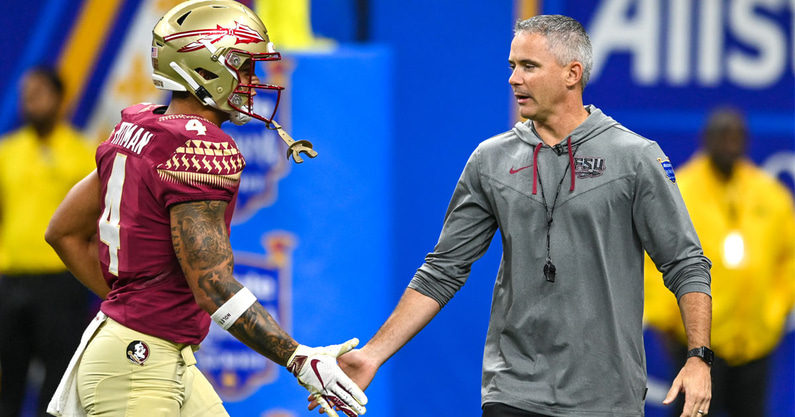 Mike Norvell and Florida State are enjoying some good times at the moment, and it's all stemming from some good practices.
Speaking with the media, Norvell explained how a team practices translates into their performance on gameday, which may be the secret to the Seminoles' 3-0 start.
CLICK HERE to subscribe for FREE to the On3 YouTube channel
"When you're willing to invest all that you have into a practice, you bring good energy. You bring — you know, your work ethics at a certain point. You, obviously the effort that you're pouring into it, that's going to show up in great ways," stated Norvell. "One of the things, even through the first three games, there's been moments on inconsistency. Pick what the issue is, whether it's communication, detail, fundamental. Those, the only way those get corrected is if you put yourself into that emotional state. You're going to have excitement, anxiety, all those things are going to show up on game day. You've got to get yourself to that point in practice, so you can be more comfortable and focused when it shows up in a game.
"So I love when guys bring that type of energy to a practice. It definitely helps prepare us for what's ahead."
Evidently, Mike Norvell is feeling giddy about the beginning to the Florida State season, and will be looking to remain unbeaten on Saturday against Boston College. The Seminoles may begin to garner some national attention if they can keep things moving in the right direction.
Mike Norvell details how Florida State has created an identity on offense
Furthermore, Norvell recently spoke with Greg McElroy on Always College Football, and said that Florida State's new offensive identity started in the offseason for the Seminoles. 
"It comes from the work, and these young men they invest and they've worked really hard in the offseason; they're bigger, stronger, faster," Norvell said.
The Seminole's offense is surely looking like they've put in the work, as they currently rank first in rushing yards per game in the ACC and second in total yards per game. Florida State has come out the gate establishing themselves as one of the top offenses in the conference, which Norvell attributes to the growth of their playmakers. 
"We got great playmakers, we've been one of the youngest teams in college football the last few years and now you're seeing that growth, you're seeing the confidence through that experience that these guys have gained," Norvell explained. "We've got dynamic players, and being able to put them in the best position that we can, it's been fun to watch them play, it's fun to watch them compete." 
While Norvell likes what he's seen so far from his offense, but still knows there is room for improvement. Hopefully for him and the Seminoles, they can keep improving as they head into the thick of their conference schedule, and also get back their starting quarterback Jordan Travis, who exited their last game with a lower body injury. 
"Like I said there's still a lot of things we have to improve upon, because we haven't played our best game yet, but you see the foundation that's set and the opportunities that are ahead. And I definitely believe this team is gonna do what's necessary to keep taking those steps," Norvell added.