Aaron Murray identifies biggest threat to Georgia's potential title run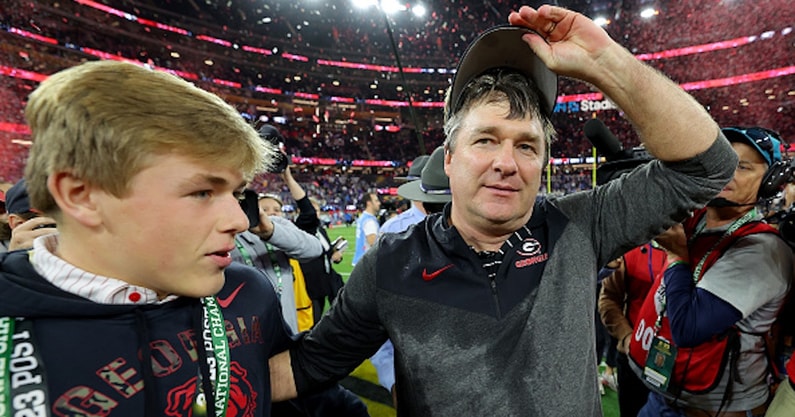 Former Georgia quarterback Aaron Murray named Tennessee and LSU as the biggest threats to the Bulldogs potential title run for a third straight championship.
LSU was overmatched by Georgia in last year's SEC Championship Game, but the 2023 squad looks much more formidable. In the case of Tennessee, quarterback Joe Milton takes over and the Volunteers could pick up right where they left off.
Murray broke down the two teams' chances versus Georgia with On3's J.D. PicKell on The Hard Count.
CLICK HERE to subscribe to the On3 YouTube channel today for all of the latest news on college football, recruiting, NIL, more! 
"I'm interested with Tennessee," Murray said. "The game's in Neyland (this year) I think Joe Milton's a stud. I think Joe is a freak athlete. I had a chance to cover him a couple of times last year and you know, talking with him and the staff and talking with Hendon (Hooker), just his maturity (is great) … He's a freakish athlete. From running to throwing to size, he may be the prettiest build of a pro quarterback prospect out there in college football right now. And the fact that he's by all accounts, he's really taken a step up when it comes to his timing, his rhythm, being able to lay in the football instead of just trying to put a hole in someone's chest. If he can take that step. I mean, it's gonna be a good team."
"I think they're going to be obviously aggressive (on defense) as always. They're building depth which they haven't had in a couple of years. So yeah, you get those weapons which they didn't have in the spring game. So for those who watch the spring game, you know they were not healthy at receiver running back. You get those receivers and running backs with a quarterback that is more talented than Hendon and get him playing like Hendon, that's a scary team … But you know, that's really Georgia's only game they got to really get up for." 
Murray also talked about LSU, which would be a potential SEC Championship Game matchup, for the second straight year too.
"I think LSU in the West is a really good team," Murray said. "You know, I like Jayden (Daniels). I like their offense, you bring back the tackles. You got the running backs, the receivers … (You bring back) the best linebacker, maybe in the SEC, so they don't have a lot of questions on the roster. (That) gives me the confidence that they can win the West and should win the West. 
"But I just don't know if they have the depth yet that Georgia has, two to three deep, that when they face off in the SEC championship game, they're going to be strong enough to kind of compete with the Bulldogs."
Murray mentioned Alabama, but right now, the former Georgia quarterback isn't picking the Crimson Tide to return to the conference title game.
"But that'd be my two (teams that'd be the toughest for Georgia," Murray said. "Obviously Alabama has (a chance), but like I said, I don't anticipate Alabama winning the West so Georgia won't have to face them this year."