Athens PD issue arrest warrant for Georgia DL Jalen Carter stemming from Devin Willock crash investigation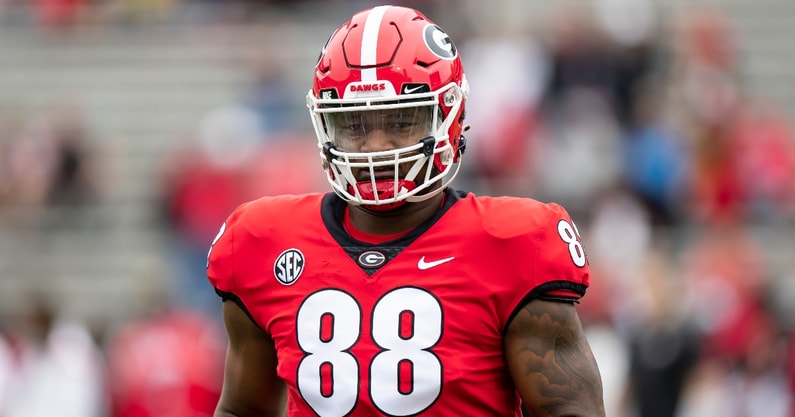 The Athens Police Department has issued an arrest warrant for former Georgia defensive lineman Jalen Carter stemming from the fatal crash involving former Bulldogs player Devin Willock and recruiting staffer Chandler LeCroy.
Carter has been thought as the potential first overall selection in the 2023 NFL Draft. The Athens Police Department issued a statement regarding the news on Wednesday.
"As a result of the ongoing investigation into the January 15, 2023, fatal crash that occurred in the 90C block of Barnett Shoals Road, the Athens-Clarke County Police Department has secured arrest warrants for Jalen Carter, 21, for Reckless Driving and Racing," the statement read.
"The investigation found that Chandler LeCroy, driver of the 2021 Ford Expedition, and Jalen Carter, driver of a 2021 Jeep Trackhawk, were operating their vehicles in a manner consistent with racing shortly after leaving the downtown Athens area at about 2:30 AM. The evidence demonstrated that both vehicles switched between lanes, drove in the center turn lane, drove in opposite lanes of travel, overtook other motorists, and drove at high rates of speed, in an apparent attempt to outdistance eact other. Evidence indicated that shortly before the crash the Expedition was traveling at about 104 miles per hour. The toxicology report indicated that Leroy's blood alcohol concentration was .197 at the time of the crash. Investigators determined that alcohol impairment, racing, reckless driving, and speed were significant contributing factors to the crash.
"The case will be given to the Solicitor General's Office."
Additionally, this comes after news hit the light via a report from the AJC that Carter was reportedly present at the scene of the fatal crash.
Carter originally told authorities he had been more than a mile away from the accident when it took place, per a report from the AJC. However, he later reportedly admitted he was close enough to see the vehicle's taillights.
According to the AJC, authorities have obtained surveillance videos to try to see what took place before the incident.
"Police had reason to suspect almost from the moment of the crash that other cars had been at the scene, and they soon learned at least two of those vehicles were driven by Georgia football players," according to the AJC's Alan Judd and Dylan Jackson. "Seeking evidence of possible racing, officers have obtained surveillance video from city-owned cameras along the route the players took out of downtown Athens. They also obtained footage from at least one business owner."
There's been no comment from Jalen Carter or his team on the matter. He's currently in Indianapolis for the 2023 NFL Combine.