New details emerge on Georgia receiver Marcus Rosemy-Jacksaint speeding arrest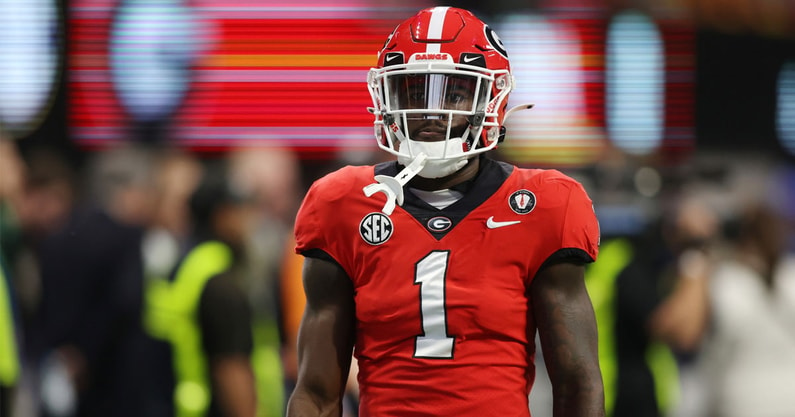 The Georgia football team continues to have issues with reckless driving, even after a January crash claimed the lives of football player Devin Willock and recruiting staffer Chandler LeCroy. On Tuesday, police caught receiver Marcus Rosemy-Jacksaint speeding and booked him.
Details emerged Wednesday morning about the incident.
According to the Athens-Clarke County Police Department, via reporting from The Athletic's Seth Emerson, Rosemy-Jacksaint was seen speeding at 90 miles per hour in a black Dodge Charger when officers tagged him with a speed detection lidar unit. He was stopped and arrested for speeding and reckless driving.
His offense is just the latest in a string of them dating back to around the fatal January accident.
Top-10 NFL Draft pick Jalen Carter was also arrested for street racing and reckless driving on the night that Willock and LeCroy were killed, something that surfaced well after the crash occurred.
Carter pleaded no contest on both counts and was suspended from driving in the state for 120 days.
Wide receiver De'Nylon Morrissette was the latest incident before Marcus Rosemy-Jacksaint's speeding arrest. Morrissette was charged with DUI, driving too fast for conditions and two other misdemeanors on May 8 in Oconeee County.
Just prior to the fatal crash in January, linebacker Jamon Dumas-Johnson was charged with reckless driving and street racing.
Dumas-Johnson pleaded guilty to reckless driving and had a second charge for racing dismissed, getting 12 months probation and needing to complete a defensive driving course and traffic violators' impact program, as well as pay a $635 fine and do 40 hours of community service.
Following that arrest, head coach Kirby Smart addressed disciplining players over those types of issues.
"Will he be disciplined? (He) absolutely will be disciplined," Smart said, according to the Athens Banner-Herald. "Do I have to define what that discipline is right now? No I don't have to define what that discipline is, but I can assure you that the education piece is there and that the discipline is there. Our team is a very disciplined team, they'll do what they're supposed to do when they're supposed to do it, and when they don't, they're going to face the repercussions of that."
Georgia won its second national title in as many years during the 2022 season, capping the most remarkable run in school history.
The Bulldogs will once again be favored to repeat in 2023 against one of the nation's lighter schedules, but so far the offseason has been plagued by continued headlines over poor decisions made while behind the wheel, like the latest Marcus Rosemy-Jacksaint speeding offense.