Georgia head coach Kirby Smart visiting 2023 QB Arch Manning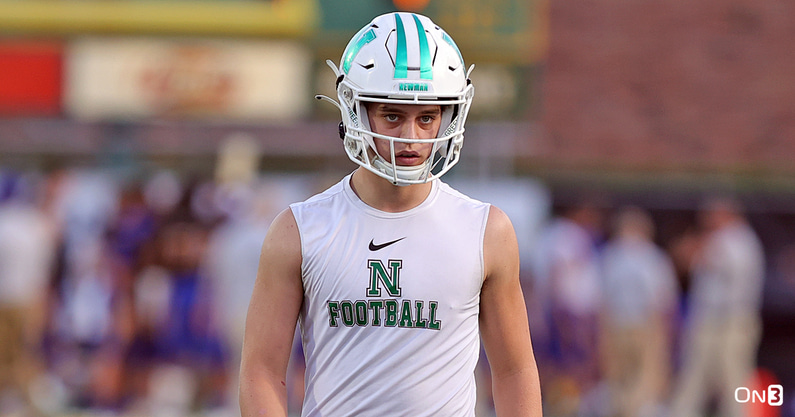 New Orleans (La.) Isidore Newman quarterback Arch Manning will receive a visit from Georgia head coach Kirby Smart on Friday, sources tell On3 Director of Recruiting Chad Simmons.
Manning, the No. 1 overall player in the 2023 On100 rankings, is a major target for the Bulldogs in the cycle. He's also entertaining offers from Alabama, Ole Miss, Texas, and Clemson.
The 6-foot-4, 215-pound Manning has visited Georgia, Alabama and Texas already this fall, and he'll be at Ole Miss this weekend for his uncle Eli's jersey retirement ceremony. A trip to Clemson is also scheduled for early November. Texas head coach Steve Sarkisian, who Manning has built a great rapport with, watched him play last weekend before the Longhorns hosted him on an unofficial visit.
And now it will be Smart's turn. Georgia's head coach is known a bit for his theatrics when it comes to visiting recruits — he flew by helicopter to see current Florida State 2022 commit Travis Hunter.
Arch Manning enjoyed Georgia visit in September
Manning's first unofficial visit of the fall was to Athens, where fans in the student section painted their chests to spell "We Want Arch."
"That was pretty cool, I guess," Manning said. "I didn't really get to see it in person, but I saw it all over social media."
Even former Bulldogs player Thomas Davis jumped in on the recruiting effort, recording a video with Arch's dad, Cooper.
In a video posted on Twitter, Davis is walking around with a film crew and Arch Manning's father, Cooper. Davis says: "I'm hanging with the man, the myth and Arch's dad. In case you guys don't know. We gotta get Arch to Athens, man. That's what we're working on right now."
Cooper ends the clip with an enthusiastic "Go Dawgs!"
Texas making strong impression
As of now, though, Texas appears to making the biggest in-roads with Arch Manning, though. He and head coach Steve Sarkisian have a relationship dating back to Sark's time at Alabama, and Manning continues to be impressed by his demeanor and football mind.
"(Sark) is a laid back guy, which I really like," Manning said recently. "He's not always pitching me. He just checks in and that's one thing I like about him. When it is football, he's a genius."
According to On3's expert predictions, Texas has the lead for Manning's commitment, though it's far from insurmountable.
"I like Texas at this stage," Chad Simmons wrote. "Although he had very good visits to Alabama and Georgia this fall, and Clemson and Ole Miss are in this, Steve Sarkisian has really connected with Manning. The buzz really seems to be with the Longhorns. It is because of Sarkisian, his offense, and how he has recruited the No. 1 junior in the country."
Smart has had no trouble landing great quarterback talent in his time in Athens, so it's expected that Bulldogs will remain in this one until the end.