Georgia keeps elite TE Oscar Delp home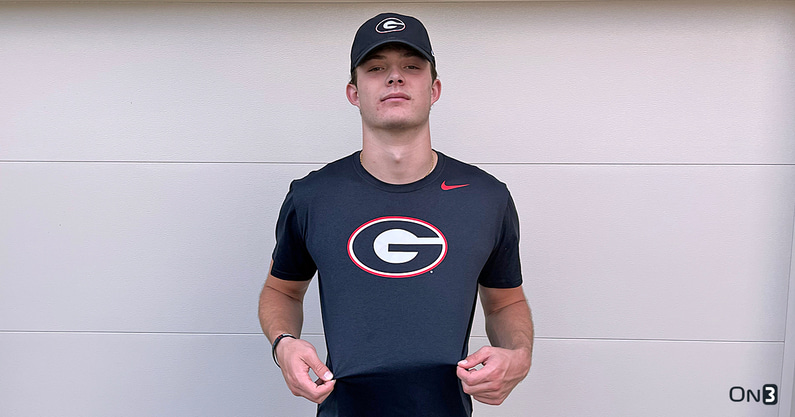 When high school football in Georgia pushed through COVID-19 in 2020 and started playing games early in September, Oscar Delp quickly made a name for himself.
If it wasn't for the pandemic, the 6-foot-5, 220-pound tight end out of Cumming (Ga.) West Forsyth would have taken off as a top recruit a lot sooner. But with no spring practice and no summer camps in 2020, schools had to wait for games to see the film, and that is when his recruitment took off.
Right away, after two touchdowns in game one, Michigan offered Delp, and within two weeks, he had double-digit offers, including one from Georgia.
The Bulldogs had his attention early, and he clicked with the coaches instantly, and the no. 86 player in the On300 has committed to Georgia.
Delp committed to Georgia over Clemson, Michigan, and South Carolina.
"I felt it was Georgia early in September, but I wanted to watch the season, take a few more visits, and make sure before I committed," Delp said. "The more I watched Georgia this season, the more it solidified my decision."
Delp has visited Athens double-digit times and he will be back this weekend to see the no. 1 ranked Bulldogs host Kentucky.
Todd Hartley played a big role in Delp's commitment to Georgia
Todd Hartley's tight ends room just got a little better. He already had guys like Brock Bowers and Darnell Washington, two that are expected to play big roles in the Georgia offense the remainder of the season, and now, Delp will be added.
"We have the best tight end room in the country," Delp said. "Coach Hartley did a great job recruiting all of us. He is just a great guy. He knows the fine line between giving us distance, but not too much.
"Coach Hartley is one of the best, most genuine coaches, out there."
Not only did Hartley recruit Delp well, but his parents too.
"I think he has won the parents over for each tight end he has targeted. My parents love him and really trust him.
"He is a coach that parents want their kids to play for. Coach Hartley is a guy parents want to mentor their kids. Who he is really won my parents over."
Part of what has Delp's parents on board is Hartley's honesty. He was true to his word from the beginning, and that stood out to the entire family.
"Coach Hartley told me I would be the only tight end he targeted this class, and he has been true to that. He has not gone after any other tight ends since he offered me.
"He told me he had other guys in mind, and that he had to have a backup plan, but I was his guy, he was honest about that, and that showed me a lot.
"Coach Hartley is just a great person. He is a great coach too, and it is going to be exciting at Georgia playing for him."
Delp sees the Georgia offense taking off
In Todd Monken's second year as Georgia's offensive coordinator, the Bulldogs are averaging 47.8 games through five games. The team is battling through some key injuries at key spots on offense, but it still is showing more explosive plays than it has in the past.
Delp feels it is only going to get better.
"I have been watching the offense, how they use the tight ends, and the play of Bowers this season," Delp said. "Everything I have wanted to see, I have seen.
"The offense is explosive, Bowers has been a big part of that, and it is only getting better. This is coach Monken's second season, and I love what I see in his offense. It is getting ready to be insane."
Delp plans to be a part of that.
"Coach Monken wants me and Bowers to be on the field at the same time in the future. He thinks we can do big things together, make the offense better, and I love that idea.
"I like how coach Monken moves Bowers around before the snap, creates mismatches, and gets him the ball. I see the Georgia offense and I see the perfect offense for me.
"What they were telling me over the summer about the offense is exactly what I see. It is exciting."
All the visits to Athens helped Delp find his future home
Delp has taken double-digit visits to Georgia, so he is very familiar with Athens, the program, the coaches, and the environment.
Some visits have been public, others have been private, but each was part of this decision.
"At Georgia, I had that home feeling," Delp said. "I got that true feeling for Georgia, and it was like I was home.
"Georgia is close to home, but far enough, and it is the right place for me."
The coaching staff knows him very well, Delp has gotten close to numerous players, and he can't wait to call Athens home.
"I can be walking down the street in Athens and people call my name, so that is cool, but it is not too much. I just love the feel there.
"The coaches, the players, and everyone has been welcoming, and I will be there in January."
Delp sees Georgia as a national contender now, and in the future
Georgia is now the top-ranked team in college football. The team has been very impressive this season, and Delp does not see this changing in the near future.
"The talent we have at Georgia and coming into Georgia is insane," Delp said. "I am expecting us to compete for national championships in the coming years.
"We could win it this season, and I do not see anything changing when I get there.
"The team is still not healthy now, so I expect the team to get better as some players get healthy. I see us with one of the best offenses and best defenses in the country now, and I think that stays the same in the future."