James Cook on relationship with brother Dalvin Cook, who's the better running back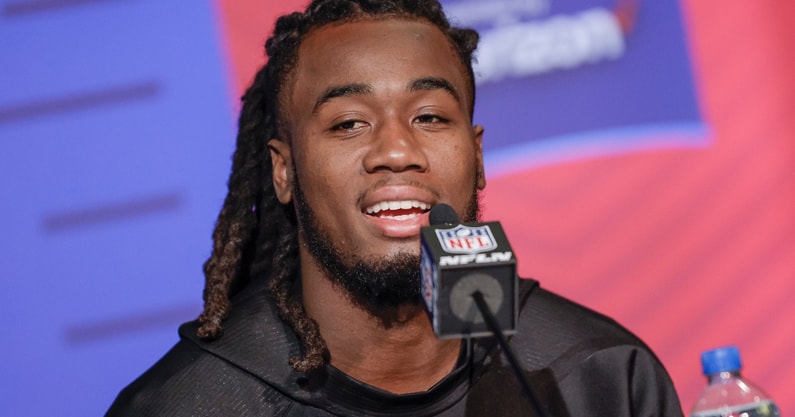 As former Georgia star James Cook readies for the NFL Draft, the running back is leaning on his brother for help. Luckily, his brother is former Florida State and current Minnesota Vikings star running back, Dalvin Cook.
Since coming into the league, Dalvin Cook has been a force to be reckoned with in the NFL. As his little brother prepares for the draft, James Cook explained his relationship with his big brother who already went through the process.
"Having him as an older brother is a plus for me. Being in the NFL, he tells me all the tricks and trades to the game," stated James Cook on NFL Network's Good Morning Football. "Him being a vet, just looking up to him as an older brother — it's special."
While Dalvin Cook is helping James Cook in his quest for NFL greatness, the former Georgia star isn't ready to say his brother is a better running back.
"Of course I'm going to say me, just like he's going to say him," answered Cook when asked who's the better running back between the two. "We just competitive like that."
Dalvin Cook was drafted No. 41 overall by the Vikings in the 2017 NFL Draft. If James Cook is drafted earlier, he'll have some early bragging rights over his brother to begin his career.
James Cook on living up to Georgia greats: 'It ain't no pressure.'
Moreover, James Cook will forever be part of Georgia history, a key piece on the team that ended the Bulldogs' title drought. Now, he's taking his talents to the NFL, where he faces the next set of challenges in his football career.
One of those challenges will be living up to the standard that Georgia running backs before him set. Players like Herschel Walker and Knowshon Moreno, and more recently Todd Gurley, Nick Chubb and Sony Michel have had great success at the next level.
In an appearance on NFL Network's Good Morning Football, the former Georgia star detailed the pressure of living up to those names.
"I mean, it ain't no pressure," responded Cook. "There's a standard that you have to live up to and uphold. We feel we did that. Just breaking that 41-year streak, I think we did it. I mean, that's something special."
Evidently, Cook doesn't feel the heat when it comes to living up to past Bulldogs greats. After breaking the title drought, he feels like he can do anything.
Continuing, Cook spoke about what it meant to be part of the team that deliver Georgia a championship.
"It's a great experience," answered Cook. "Working hard for what you did all year, and it coming to light. It's special."
Finally, it remains to be seen where James Cook gets drafted come later this month. Still, the former Georgia star isn't short on confidence.
"I'd make a good fit for all those teams because I'm versatile," responded Cook when asked about why he's a good fit for multiple NFL teams. "I can play any position. I can lineup wide, I can lineup in the slot. Catch the football. run between the tackles.
"So, I mean, there's so many variations to what I can do, that I think some people in the NFL can't do."
Time will tell where James Cook ends up in the NFL. However, he'll forever be able to say he was part of the Georgia team that captured a title, and he'll be looking for continued success at the next level.