Jaylen Johnson provides update on George Pickens, recovery from injury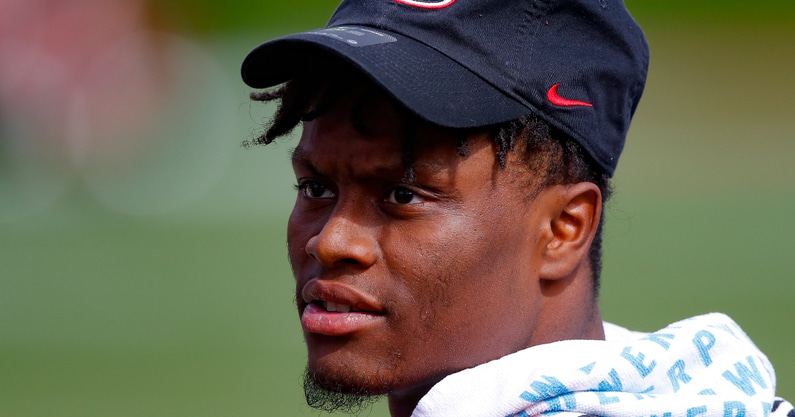 Jaylen Johnson provided an update on George Pickens and his recovery from injury. Johnson speaks for the entire Georgia wide receiving corps, hoping Pickens is able to return to form from his torn ACL.
During a media availability session, Johnson reveals how hard Pickens is working to return to the Bulldogs.
"George is doing a great job in his recovery and his rehab," stated Johnson. "George loves the field. Loves the ball. We all miss him because he's a great teammate, he's a great player. He's doing everything he can to get out there with us."
Prior to his injury, Pickens was regarded as a potential first round selection in the NFL Draft. The injured wide receiver is highly-regarded by his coaches and teammates, and the possibility of a comeback prior to the end of the season would be storybook.
A couple weeks ago, Georgia coach Kirby Smart wouldn't disclose a timeline for Pickens return. Still, he left Georgia fans with a glimmer of hope for the possibility.
"There's a long-term plan there, but I don't disclose timelines on that kind of stuff," said Smart. "Probably the week of the game we'll know more but we did a walk-through yesterday and he was able to do that. He can get signals and get calls, he's done a tremendous job working in recovery."
The return of Pickens would provide the Georgia offense with a needed boost. The wide receiver corps has been decimated by injuries, forcing inexperienced players into action with a backup quarterback.
Injuries plaguing Georgia WRs
As Pickens works back from injury, he's being joined on the sidelines by some of his counterparts. The hits keep coming for the Bulldogs' receiving corps. Earlier this week, Smart provided an update on the injured Dominick Blaylock.
"It's tricky with that injury, it's a hamstring," Smart said about Blaylock. "They are always tricky and frustrating… as a coach you just say, 'Tell me when he's ready. When is he going to be ready, Ron, when is he going to be ready?' It doesn't work that way. As long as he does what he can, he is strengthening the muscle. He's done everything we have asked. He's trying to get back, and he is much closer this week than he was last. It's a patient process when it comes to hamstrings."
Blaylock has 18 career receptions, 310 receiving yards and five touchdowns. He did not play in 2020 and has yet to make his 2021 debut with the hamstring injury. Other wide receivers limited by injury include George Pickens, Marcus Rosemy-Jacksaint, Jermaine Burton, Arian Smith. Arik Gilbert is also away from the team, dealing with personal issues.
Georgia has been the class of the country without their wide receiving corps at full strength. If they can get healthy, they may elevate an even higher level.