Jordan Davis reveals Georgia defense was not well conditioned in SEC title game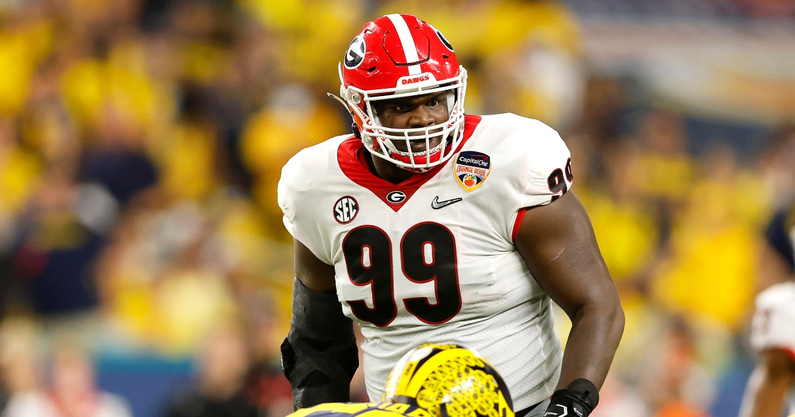 Georgia's defense has been dominant for most of the season, and interior star Jordan Davis has played a big role in the Bulldogs' run to the National Championship. With the title game against Alabama coming up on Monday night, Davis has revealed Georgia's key to coming out victorious in the rematch.
Davis went back to the SEC title game against Alabama, pointing to a lack of conditioning on Georgia's defense. That has been something that Davis and Georgia's defense have been emphasizing ahead of the National Championship.
"Honestly, the SEC, it was down to mental execution," Davis said on Saturday. "It was a couple of plays that we busted and they got big plays on. And just I'd say we wasn't as conditioned as we should have been, especially on my part.
"And definitely this week we've been working hard. Coach Smart has been working us hard. And actually I'm about to go run right now after this meeting. So it's definitely about pushing yourself to the next level. You just want to do the things — this is for all the glory. So, if you're not pushing yourself to the absolute limit, then it's like what are you here for."
Davis totaled 30 tackles this season, adding 4.5 tackles for loss, two sacks, and 12 quarterback hits. While his numbers might not immediately jump out at you, Davis is a valuable run stopper and makes a big impact every time he is on the field. He even had a rushing touchdown in Georgia's final home game of the regular season.
Davis has been a big part of Georgia's National Championship run
After his strong season, Davis racked up multiple individual honors. He won the Outland Trophy, Bednarik Award, and first team All-American honors.
In his four-year collegiate career, Davis has racked up 89 tackles, 11.5 tackles for loss and seven sacks. With likely one game remaining in his collegiate career, Davis is hoping to leave Georgia with a National Championship under his belt.
Earlier in the season, Georgia head coach Kirby Smart raved about the value of having Davis on his defense.
"I love Jordan. What he has done for our defense is incredible," Georgia head coach Kirby Smart said about Davis when asked about his candidacy for the Heisman Trophy during the season. "I don't think you can measure the statistics and what he's done for our defense, but I'm no analyst to be deciding who gets to go to the Heisman, and who's up for it.
"I think that's the media and the talking heads and everybody that gets to be a part of that they control the narrative there. For me, it's about our team and our team's play. Well, Jordan has been a tremendous, tremendous part of that. It's been a bigger bonus to our defense from a confidence standpoint, in a run-stopping standpoint than probably any other measurable stat that we have there."