Kendall Milton on keeping up with the Georgia running back tradition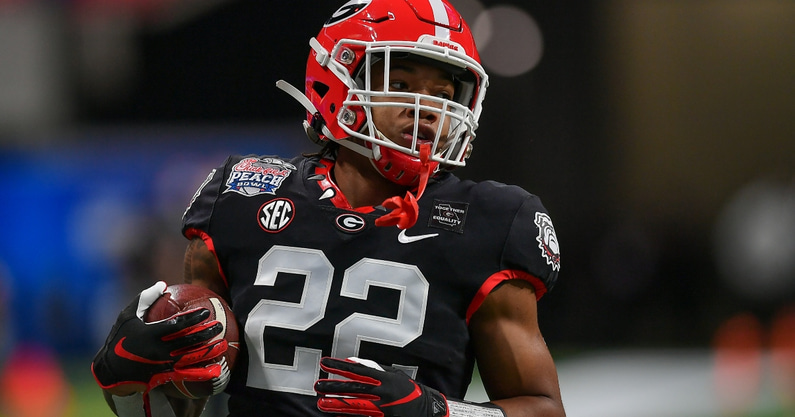 Kendall Milton got his feet wet with the Georgia Bulldogs last season. As he enters his sophomore year, the former four-star recruit joins a running back room attempting to write their own excerpt in the storied history of Georgia tailbacks.
"To be honest, it's just crazy that we have this many talented backs on one roster," said Milton, via DawgNation on YouTube. "You look around the room and everybody has that big time running back title potential.
"Everybody has different tools and different ways that they can contribute to the game. It's just about once everybody gets their opportunity, they just gotta strike. I feel like this running back group is something special."
Evidently, Milton believes that the Bulldogs have a ferocious running back room, and he's right. The group has potential to be the best in all of college football.
Moreover, joining Milton in the Bulldogs' backfield is Zamir White, James Cook, Kenny McIntosh and Daijun Edwards. This season, they could conjure up memories of Nick Chubb, Sony Michel and D'Andre Swift terrorizing defenses.
Leading the group is White, who started every game for the Bulldogs in 2020. He finished the season with 779 rushing yards and six touchdowns, numbers he'll look to improve upon in 2021.
In addition, Cook finished last season with 303 rushing yards and 3 touchdowns, while McIntosh added on 251 rushing yards and a touchdown as well. While there's only one football, there's enough yards to go around for every running back on Georgia's roster.
How will Milton improve in Year 2?
While Milton may be fond of his teammates, there's always the spirit of trying to outdo them. As he attempts to become the best back he can be, Milton spoke on what he's tried to improve in his game the most.
"Just getting down to the little things in the run read. Seeing the little things in the hole," said Milton. "Coach [Dell] McGee – he's been more than helpful with that. In practice, in the film room, he's done a lot to be able to help me in the little areas to improve my game. I'm very thankful for that."
What part of Milton's game is overlooked?
When you're surrounded by so many talented players, parts of your game can get lost in translation. To illustrate, Milton detailed parts of his game that he believes gets overlooked while watching Georgia run the football.
"I try not to be a person that looks at it that type of way. I'm just kind of one of those put my head down and work type of people," said Milton. "Everything I can do – the training, the practice, film room, everything that goes into a game I try to do that the best I can.
"Prepare for the big moments. That's what I work for."
Evidently, Milton believes in his unmatched ability to prepare. The running backs put everything into the behind-the-scenes game, so he can shine on gameday.
Shine he will. In 2021, Kendall Milton and the rest of the Georgia Bulldogs running backs have a shot to become immortalized in team history.