Kirby Smart brags about Georgia's NIL deals last season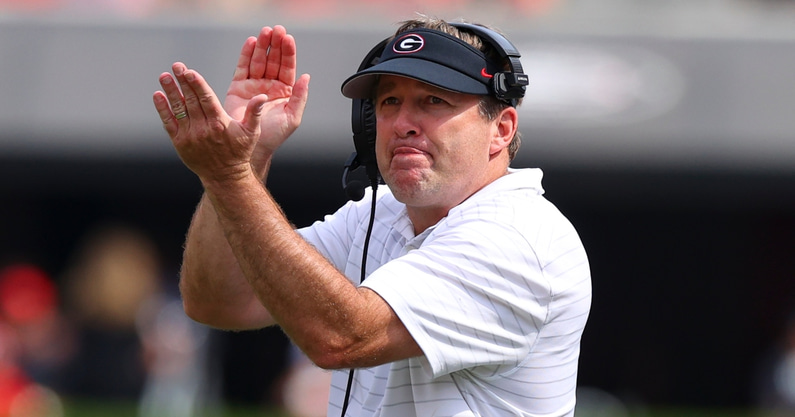 NIL has become a controversial debate in college athletics, with many coaches calling for more guardrails to be put into place. Still, coaches do love to brag about the NIL success their players have had. Georgia's Kirby Smart is the most recent to do so.
"Trust me, there's a lot there," The Athletic's Seth Emerson reports that Kirby Smart said. "We arguably, I don't know for a fact, had the highest-paid defensive lineman (Jordan Davis), the highest-paid tight end (Brock Bowers) and probably the highest-paid corner (Kelee Ringo) in the NIL market. Because after the national championship, there's three guys there that just exploded."
According to Kirby Smart, 95 different players received a NIL deal of some kind. Some of those, as he pointed out, were major deals.
"The unfortunate thing about NIL is you hear all the negative, and the negative outweighs all the positive," Kirby Smart continued. "There's countless number of stories. I would rival anybody in the country to have 95 NIL deals, coming off a national championship. It's a pretty gaudy number, total, that we've been able to give out. But I don't think it's just about marketing that, selling that. I would rather talk about the depth of our deals than the total amount."
CLICK HERE to subscribe to the On3 YouTube channel
Coaches like to brag about NIL
Kirby Smart isn't the only coach who has bragged about NIL. At SEC media days, Nick Saban bragged that his players had received around $3 million in NIL deals last season.
This is where the challenge currently lies for college coaches. The rules are very vague and open-ended. So, they need to use and promote NIL aggressively. That means bragging about deals their players receive. At the same time, they're also advocating rules that would restrict these kinds of deals.