Kirby Smart calls on Georgia fans ahead of Kentucky game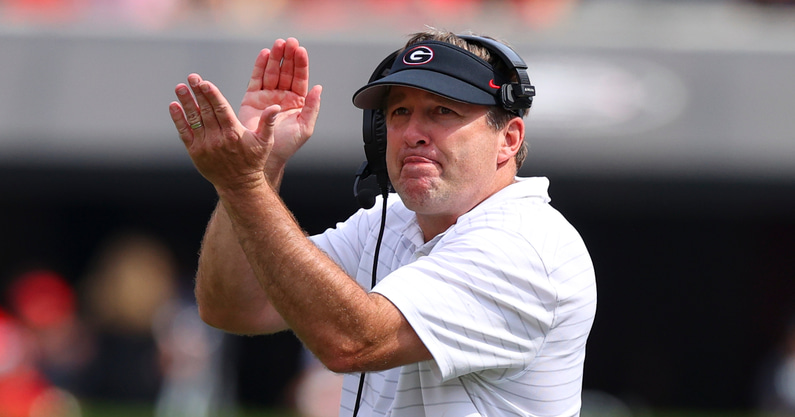 Georgia head coach Kirby Smart called on Bulldog fans to show up in big numbers, and ready to yell, on Saturday as they prep to host No. 11 Kentucky.
Much was made out of full-sized crowds returning to stadiums for the season after 2020, and as it turns out, the monstrous crowds have made significant impacts on games across the country.
"I think this game speaks for itself," Smart said. "What it means, who we're playing, what the rankings are, what's at stake when you talk about the East, I think our fans are educated enough to know the importance of this one. Their impact could be the difference in the game.
"I don't think sometimes they acknowledge that because they think that everything's going to be easy, it's going to be home, and you can't think that way. You can't be apathetic as a fan. This is a high, high-quality football team and we need the extra advantage of playing at home just like what we went up against last week at Auburn. We need that same advantage this week."
Smart wants the same advantage he's seen help Florida, Texas A&M, Kentucky, Iowa and plenty more teams so far this year. Kickoff is at 3:30 p.m. ET.
The crowd noise factor is real
In the Swamp in Week 3, Alabama committed 11 penalties versus the Gators, many due to communication issues.
Florida got a taste of it themselves versus the Wildcats in Week 5, resulting in a historic upset in Lexington. The Gators committed eight false starts.
It happened to Alabama again last week in the upset versus Texas A&M. More than 106,000 fans at Kyle Field helped cause eight penalties on the Tide for 82 yards.
In Week 6, the crowd noise was a factor yet again. No. 3 Iowa hosted No. 4 Penn State in a raucous Kinnick Stadium and took the win with some help from eight false starts by the Nittany Lions.
Smart shares update on JT Daniels
Georgia head coach Kirby Smart gave an update on Tuesday about ongoing recovery of his injured quarterback JT Daniels, including his current workload. Smart said he's doing more in practice each week, and that the team has Daniels on a "pitch count" in practice.
"Georgia quarterback JT Daniels (lat strain) has done a little more in practice this week than last," detailed Marc Weiszer of the Athens Banner-Herald. "He threw up to 40 passes Monday and as far as 30 yards, but didn't do as much today."
The Bulldogs have played great despite not having their starting quarterback, but their biggest potential hurdles of the regular season are around the corner. No. 11 Kentucky comes to Athens on Saturday and the annual Florida-Georgia game is on Oct. 30.