Kirby Smart: Dependable Brock Bowers has been critical to Georgia's offensive success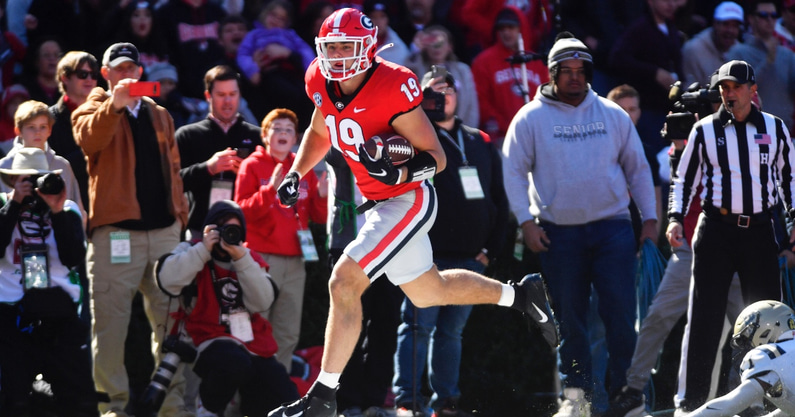 Georgia head coach Kirby Smart knew that if his team was going to compete for a national championship this year despite numerous injuries, he would need young players to step up.
Enter tight end Brock Bowers.
On3 listed Bowers as a five-star recruit out of Napa (Calif.) High School, and he is certainly living up to that ranking. The true freshman leads the team in multiple major receiving categories, including 34 receptions for 552 yards and eight touchdowns. 
On Monday, Smart offered an explanation for Bowers' shocking rookie season.
"Staying healthy," Smart said when asked what has allowed the freshman to prosper so quickly. "We really haven't had anybody else that's been consistently healthy… It takes opportunities, and he's been healthy for all of the games we've played."
The Georgia pass catching room has been decimated by injuries. Wideouts George Pickens and Dominick Blaylock have not played this season due to torn ACLs suffered in the offseason. Additionally, Jermaine Burton, Kearis Jackson and Marcus Rosemy-Jacksaint have all suffered injuries causing them to miss time. Arian Smith is the latest Bulldog receiver to have his season disrupted, as he broke his leg in practice in early November.
As a result of the injuries, Bowers has played 459 snaps this year. The only true freshman Power Five tight end to play more snaps than Bowers this season is Arizona's Alex Lines.
Bowers has a great mix of dependability, talent
Of course, opportunity is not the only factor leading to Bowers' success. According to his head coach, and unsurprisingly, he is an incredibly hardworking player.
"The biggest thing is Brock's consistency," Smart added. "He's not just a role player. He can block, he plays with physical toughness, he's very intelligent, he takes notes, he comes in early and watches tape. When you have dependability and talent mixed together, that's usually what you get when you got a guy that's put up those type of numbers."
The 6-foot-4, 230-pound tight end is currently the second-highest rated tight end in the country, per PFF.
Bowers and the Bulldogs will try to close out an undefeated regular season on Saturday against Georgia Tech. Georgia has the edge all-time in the matchup, with 68 wins to Georgia Tech's 41. The Bulldogs have won the last three meetings by an average of 33 points.
Georgia is a five-touchdown favorites for the noon ET kickoff on ABC.