Kirby Smart details why leadership is Nolan Smith's best trait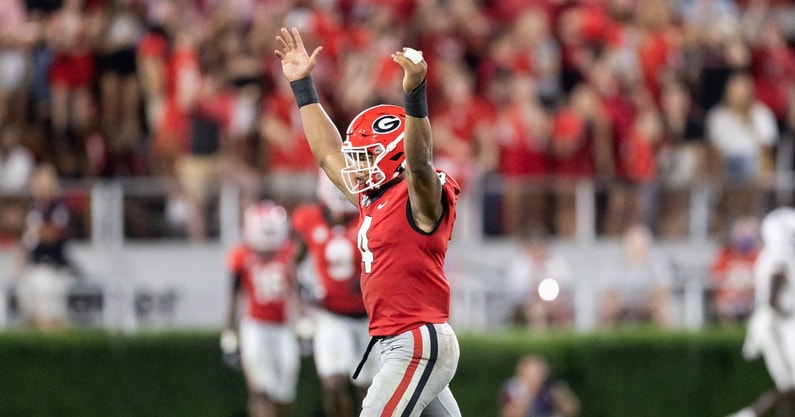 Under head coach Kirby Smart, Georgia has been known for its dominant defenses. The Bulldogs rode the back of their defense to the 2021-22 national championship, and they're looking to do that again in the 2022-23 season. One of the key players on the defense making that push is linebacker Nolan Smith.
Kirby Smart praised Nolan Smith to the media, in particular for his leadership, which Smart says is his best trait.
"Leadership, toughness," Kirby Smart said. "Nolan is a natural leader. He's been that way since I met him when he was in eighth grade and he came up here to camp."
CLICK HERE to subscribe for FREE to the On3 YouTube channel
"He's been a natural leader. He comes from a great family. But his leadership is more important than his ability and his ability is pretty strong. He creates a toughness about it that he holds people to a standard of the way you strike blocks, the way you close on counters, the way you rush with effort, special teams. I mean, he plays on all special teams. He's just a core guy."
A former five-star recruit in the Class of 2019, Nolan Smith brings plenty of experience to the table. He has 12 solo tackles and three sacks during the 2022 season.
Stetson Bennett praised Nolan Smith
Kirby Smart isn't the only one who has praised Nolan Smith for his leadership. Quarterback Stetson Bennett has also noticed that Smith is the team's vocal leader.
"Nolan doesn't hesitate too much. He says what he thinks and is consistent with what he thinks. So, there's never been a question, for me, where he stood. We struggled a little bit, and the defense had our back that game. And then, for him to come out and just say, 'Hey, all this talk is whatever.' It puts that to bed, and it makes me love the guy. Like, alright, well, that's my teammate. He's for me; he's a ride-or-die. That's my guy," Stetson Bennett said.
"He is our vocal leader. He says stuff, and people listen. He talks smack in practice and runs around. We try to get back to him whenever we're playing against each other. But it's fun, that banter. I think he adds a little levity to the whole team and makes me laugh and have a good time."