Kirby Smart discusses Stetson Bennett vs JT Daniels, possible switch for Georgia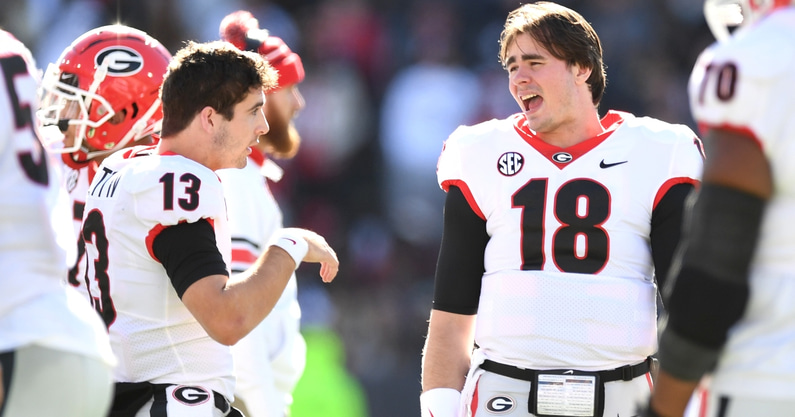 The debate between JT Daniels and Stetson Bennett has been ongoing all season for the Georgia Bulldogs. Daniels opened the season as Georgia's starting quarterback, but an early-season injury put Bennett in the starting role. Bennett started for the remainder of the season, leading Georgia to the SEC Championship.
Bennett struggled at times for Georgia in the SEC title game against Alabama. He threw for 340 yards and three touchdowns, but he also threw two untimely interceptions. The turnovers and Georgia's blowout loss left many wondering if Georgia should go back to Daniels instead of sticking with Bennett moving forward.
Georgia head coach Kirby Smart said pulling Bennett for Daniels was never an option against Alabama.
"No, we never discussed that on the headphones last light," Smart said of a potential quarterback switch. "Obviously we have to play a lot better in a lot of areas. To put any part of that blame or all that blame on Stetson, there's a lot more to it at that. We got to play better at rounding, special teams, defense, really all facets of the game."
Smart went on to defend Bennett after the game, acknowledging that while he made some mistakes, he also made some great plays to keep Georgia in the game.
"There were some really, really, really good throws last night by Stetson, some throws that only his guy could catch the ball. He made some good plays," Smart said of Bennett's performance in the SEC Championship. "We have to work on some poor decisions and a couple throws there that were picked off."
Smart has confidence in both Bennett and Daniels in Georgia's offense
On the season, Bennett has completed just over 64 percent of his passes for 2,325 yards, 24 touchdowns and seven interceptions. He also has 251 rushing yards with another touchdown on the ground.
In five games, Daniels has completed 72.3 percent of his passes for 722 yards, seven touchdowns and three interceptions. Daniels played very well at the end of last season for Georgia, throwing for 1,231 yards, 10 touchdowns and two interceptions in the final few games of the year.
Directly after the loss to Alabama, Smart said that Georgia has a decision every week between Bennett and Daniels. But he has confidence in both signal-callers.
"We have a decision to make every week at every position, but I have the utmost confidence in Stetson Bennett," stated Smart. "I think he did some really nice things tonight. We go and reevaluate everything all the time, but he played well. It's a tough environment we put him in defensively and didn't — we have to be able to run the ball and have a little bit of semblance of balance, and I felt like there was times tonight where we were getting into a scoring contest because our defense didn't get stops. And you don't want to have to do that.
"But I certainly have a lot of confidence in Stetson, and I have a lot of confidence in J.T. too."