Kirby Smart discusses the unity within Georgia's running back room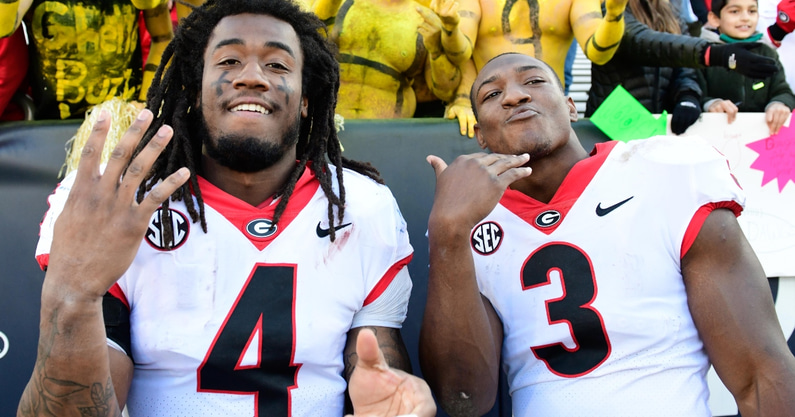 The Georgia running back room represents everything about the team-first mentality Kirby Smart has instilled into his program. Although no singular player has separated themselves, the Bulldogs running backs recognize they're stronger together.
During Thursday's SEC Championship Game teleconference, Smart discussed the unity within his team's running back room.
"I don't feel like it's just a this-year thing. That room is selfless," Smart stated. "They play on special teams. Fight, scratch, and claw for team victories. They protect the quarterback in blitz pickups. Sacrifice their own bodies. They do what we ask them to do.
"They're great teammates. I think Dell McGee does a tremendous job in his team of selling team first. Those guys, we've had so many contributors in our program from the running back room that contributed outside of carrying the ball, in terms of leadership and special teams. I think it's been great."
The leading rusher among Georgia's running backs is Zamir White, carrying the ball 128 times for 691 yards and ten touchdowns. After White, James Cook isn't far behind — rushing 90 times for 581 yards and seven touchdowns.
Even though Kenny McIntosh and Kendall Milton haven't played as often, they've gotten their fair-share as well. Thus far in 2021, McIntosh has rushed 50 times for 285 yards and three touchdowns. As for Milton, he's accumulated 243 yards and a touchdown on 49 attempts.
That stats don't lie — Georgia running backs like to share the football. It hasn't hindered their performance, and it's only helped propel the Bulldogs in 2021. As they look to win the SEC Championship on Saturday, their presence and unpredictability will be paramount.
Smart: 'Our guys have really been focused.'
As Kirby Smart and the Georgia running backs prepare for one of their biggest games together, the team has been laser-focused on the goal. While the Bulldogs are favored over the Crimson Tide, the approach has been the same.
"We'll come to Atlanta tomorrow like a traditional road game for us," Smart said. "We'll travel over tomorrow, very similar to what we did last week, going over to play Tech.
"The mindset has been great. The energy has been great. Our guys have really been focused. I think it's very important, as a coach, that you curb the enthusiasm, you have it under control. This is one of those weeks you've got to be careful you don't leave the battle out on the practice field. You want to make sure they're ready to go. It's going to be a really tough, physical game, and you don't want them to use it all in practice where our guys have been pretty spirited in getting after it."
The game between No. 1 Georgia and No. 3 Alabama pits the nation's top defense against one of the highest-powered offenses in the country. Kickoff is coming Saturday at 4 p.m. ET on CBS.