Kirby Smart evaluates QB tandem of Stetson Bennett, JT Daniels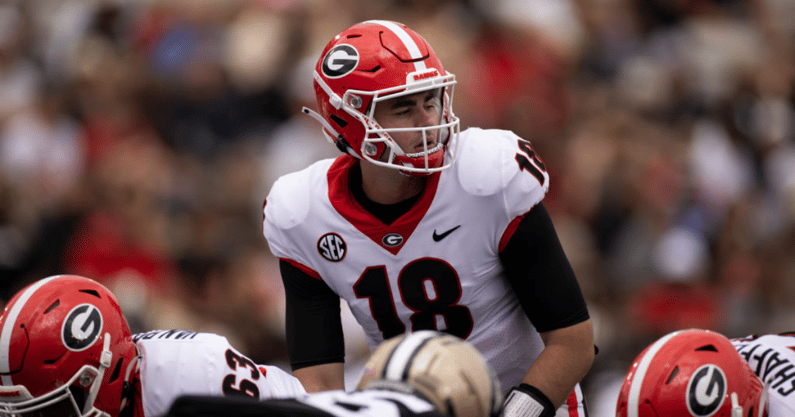 Georgia has started the season 6-0, moving to No. 1 in the country after Alabama's loss to Texas A&M. However, coach Kirby Smart sees room for improvement, even at the quarterback position.
Early play from Stetson Bennett and JT Daniels has been enough for Georgia but has yet to meet Kirby Smart's high expectations. The sixth-year head coach addressed the good and bad from the first half of 2021 during Wednesday's SEC teleconference.
"I think they've both done a good job," Smart said. "I think – depending on the game or the situation – they would be the first to tell you there's things they can improve on. They could execute better, make good decision. We've turned the ball over more than we have in the past. We've been explosive, which is important. And if you can be explosive without the risk of some of those turnovers – and decisions we wish we had back – that would be more what we want."
Through six games, Bennett and Daniels have split time. With three games apiece, here is a look at the numbers Smart referenced in his midseason answer.
At the halfway point of the regular season, Georgia has five interceptions, including two from Bennett and two by Daniels. They also have two fumbles, bringing the turnover total to seven. Over the past three seasons, the Bulldogs have averaged 14 turnovers, with a high of 15 in 2020. That puts them on the same pace, but above the average rate for interceptions, which comes out at 7.67 per season.
More on Georgia's quarterbacks
Despite Kirby Smart's call for Stetson Bennett and JT Daniels to clean up the turnovers, he also showed support for their command of the offense. With plenty of starting experience between them, Georgia has rare depth at quarterback.
"Those guys work really hard and they do a good job at commanding the offense," said Smart. "I think between the offensive staff, the offensive line and skill players, those quarterbacks have done a good job."
Bennett and Daniels have combined to throw for 1,313 passing yards and 13 touchdowns so far. The duo, complimented by a solid support staff, continues to build on success.
Over the past three seasons, Georgia quarterbacks averaged 25 passing touchdowns. The remarkable consistency across passing categories, at least through half the season, tell an interesting story.
In the same period, the Bulldogs have come up just short of the national championship. Perhaps a slight improvement over the coming weeks will make the difference, taking Georgia over the edge.