Kirby Smart explains why Georgia called Jordan Davis touchdown play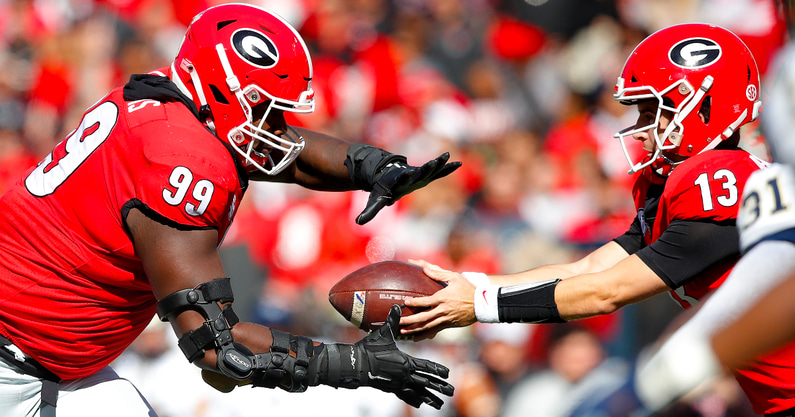 Georgia defensive lineman Jordan Davis had a senior day to remember.
The 6-foot-6, 340-pound member of Georgia's top-ranked defense had amassed 23 total tackles (nine solo stops) and two sacks over the course of the 2021 season, helping the Bulldogs solidify their SEC East title and No. 1 ranking. But on Saturday, in a 56-7 blowout win over Charleston Southern, Davis lined up on offense twice in goal-to-go scenarios. The Bulldogs were looking for their first touchdown of the game on their second drive, and Smart opted to hand it to Davis on the Charleston Southern two-yard line; Davis picked up one yard, but not the touchdown. Then, one play later, Georgia ran it back — Davis motioned over from the offensive line into the backfield, took a handoff from quarterback Stetson Bennett and pounded in a touchdown from one yard out.
After the game, Georgia head coach Kirby Smart was asked why the Bulldogs lined up their single largest player on offense, despite never having done so all season. He said it had nothing to do with the fact that it was senior day, and everything to do with Georgia wanting to win the ballgame.
"It was to score," Smart said matter-of-factly, when asked why Georgia handed it to Davis. "I mean, we'd been in that package the whole time, and [offensive coordinator Todd Monken] told me [Davis] had been begging him to get the ball, and begging to get the ball. He put a lot of work in because he has to go down and go through those plays with the offense, and then we make them make up for the plays they missed with the defense. So, it's a commitment for them to go down on offense."
Davis capitalized on his opportunity and scored his first-career offensive touchdown, though it took Georgia two chances to punch it in.
"We worked on ball security this week with [Davis] and to be honest, I didn't think we'd get a chance," Smart said. "It was almost fate that he got the opportunity because we weren't going to do it out in the middle of the field. But the opportunity arose, and those offensive coaches wanted to do it, and I thought it was a great idea. I thought he handled it well."
Davis' senior day was capped off not just by the touchdown and a 56-7 win over Charleston Southern, but also with a fitting celebration at Sanford Stadium.
After the win, Davis was seen on the sidelines, standing atop a podium, directing the Georgia Bulldogs' marching band.