Kirby Smart explains how day-to-day nature of college football has shifted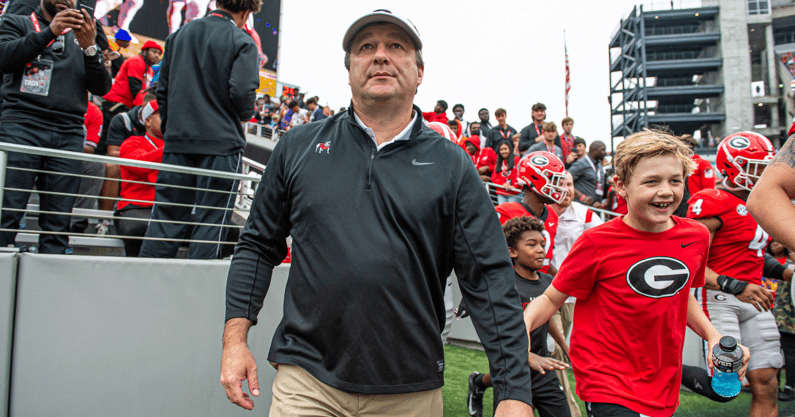 Georgia coach Kirby Smart has watched college football make a massive transformation over the past year. With NIL and the transfer portal emerging as major recruiting tools, coaches now find themselves spending more time than ever chasing players.
Whether that be their own, a high school prospect or a transfer player, it seems there is never time to rest. Smart joined the Paul Finebaum Show this past week to discuss how drastically things have changed for college coaches since he got into the profession in 1999.
"The world we live in in college football is changing so fast," the Bulldogs coach said. "I'm hoping there are some guiderails put in to help college coaches who love the game and enjoy it. Right now you're chasing your own players, you're chasing players that are in the portal and then you're chasing recruits. So you're getting pulled in a lot of directions. There's a lot of demands. It's 24/7, all the time. I got in this game because I like the relationships and coaching. Not the chasing."
CLICK HERE to get 30% OFF your Georgia Bulldogs National Championship apparel
Smart is coming off of his first national championship as a head coach this past season, and hoping to keep the Bulldogs successful through this new era. He signed the No. 3 recruiting class in the country this offseason according to On3's Team Rankings, behind only Texas A&M and Alabama.
How NIL collectives and boosters are being used in recruiting has been the biggest issue of late. Accusations of tampering and "pay-for-play" have been quite common, and Crimson Tide coach Nick Saban was the latest to lobby one toward Jimbo Fisher and the Aggies, claiming they "bought every player on their team." Fisher, of course, denied this and suggested that reporters "dig into" how Saban has remained so successful over the years.
Facing pressure from coaches and athletic directors, the NCAA recently announced updated guidance for its NIL rules. However, many are not confident this will make much of a difference until Congress gets involved in NIL. Until then, college football coaches such as Kirby Smart will simply have to adjust to new rules and hit the recruiting trail hard.