Kirby Smart hilariously singles out young player to make locker room point on composure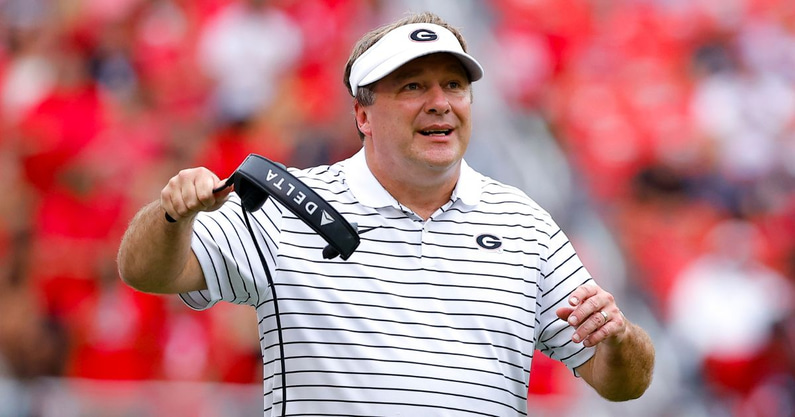 Kirby Smart hilariously enlisted the help of running back Branson Robinson to make a point about composure.
After Georgia took care of business against South Carolina, Smart elaborated on how Robinson contributed to the team staying cool, calm and collected.
CLICK HERE to subscribe for FREE to the On3 YouTube channel
"I told them before the game, before we came out, I said there's a muscle we haven't used, a muscle we haven't flexed — the composure muscle," stated Smart. "I had Branson Robinson stand up in front of the group and say, 'This is what our composure muscle looks like.' So if your composure muscle looks like Branson Robinson, there's a good chance that you need to flex it. I don't know if you've seen Branson's arms.
"And we flexed it. Because we had some things go wrong, not that wrong but we gave up some plays and we responded to it."
With Kent State coming to town, Georgia may not need to flex their composure muscle as much, but it's nice to know they have an ace up their sleeve for when they need it.
WATCH: Georgia releases hype video ahead of Kent State matchup
Moreover, the Georgia Bulldogs are the top team in the college football landscape, but that doesn't stop them from getting hyped up for every opponent that dares to line up across them on the field. Week 4's opponent for the Bulldogs is the Kent State Golden Flashes, and Georgia has released this hype video for their upcoming matchup, letting Kent State and the Bulldog faithful know what to expect come Saturday.
Check out the awesome video below, and get ready for Saturday's game.
Moreover, the Georgia defense picked up exactly where it left off last season, suffocating opposing offenses.
The Bulldogs have allowed just 10 points in their first three games, including limiting the then No. 11 team in the nation Oregon to just 3 points. However, opposing teams are really struggling to make the games competitive because of the offensive renaissance happening down in Athens, GA. The Bulldogs' offense is averaging just north of 43 points per game, or six touchdowns, against their opponents this season.
The lowest scoring total, 33 points, came against Samford in Week 2. Against their former defensive coordinator turned head coach for Oregon, Dan Lanning, and their bitter SEC East rival, South Carolina; Georgia scored 49 and 48 points, respectively.
Kent State is the next team up to test their strength against the mighty Bulldogs on the field. And regardless of what conference Kent State plays in or their national rank, Georgia is hyped up and ready for this battle.