Kirby Smart makes case for Nakobe Dean to win Butkus Award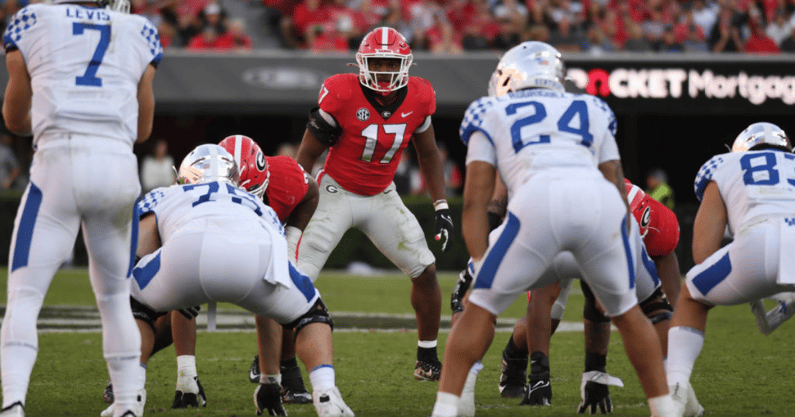 Georgia linebacker Nakobe Dean, a central figure in the Bulldogs' top-ranked defense, is one of six finalists for the 2021 Butkus Award for the nation's top linebacker. He looks to follow in the footsteps of former Georgia star Roquan Smith, who won the award in 2017. Dean's former teammate Monty Rice was named a finalist last season but lost out to Notre Dame's Jeremiah Owusu-Koramoah.
During his Monday press conference, head coach Kirby Smart brought back a good old-fashioned argument about stats vs skill and snaps vs production, promoting Nakobe Dean for the Butkus Award.
"He's one of the best linebackers in the country," Smart said, via The Athletic's Seth Emerson. "If the award is based on stats and snaps, then shame on the award."
In his junior season, Dean has emerged beside Quay Walker. He has filled the stat sheet with 50 tackles, 4.5 sacks, two interceptions, a forced fumble and a defensive touchdown.
Other finalists include Cincinnati's Darrian Beavers, Wisconsin's Leo Chenal, LSU's Damone Clark, Utah's Devin Lloyd and Wyoming's Chad Muma.
Georgia defender arrested
Georgia fans might be having deja vu after reading the latest details on freshman defensive back Nyland Green's arrest. Police arrested Nyland Green on counts early on Wednesday in Athens-Clarke County. Green's charges include two counts of possessing a weapon in a school safety zone.
On Nov. 14, a bystander reported someone "dry firing" a weapon, according to The Athletic's Seth Emerson. The weapon in question was a BB gun and shots fired caused damage to a window of Georgia's Buzbee Hall.
The Bulldogs faced a similar situation in 2016 when two freshmen, Julian Rochester and Chad Clay, also faced charges for possessing and firing a BB gun on campus. The district dropped the charges after the players agreed to pre-trial intervention.
Police booked Green into the Athens-Clarke County Jail at 2:49 AM on Wednesday morning. In addition to the weapons possession charges, other counts include second-degree criminal damage to property, a felony, as well as two misdemeanor counts of reckless conduct.
Nyland Green was huge get for Georgia. Prior to choosing the Bulldogs, Green was a five-star prospect and the No. 17 overall player in the Class of 2021, according to the 2021 On300. Moreover, he was an industry consensus four-star, ranking as the No. 50 player overall.
So far in 2021, he has played sparingly. To illustrate, Green has appeared in three contests for the Bulldogs this fall — getting extended time against UAB, Vanderbilt, and Charleston Southern.