Kirby Smart provides injury update after Georgia's scrimmage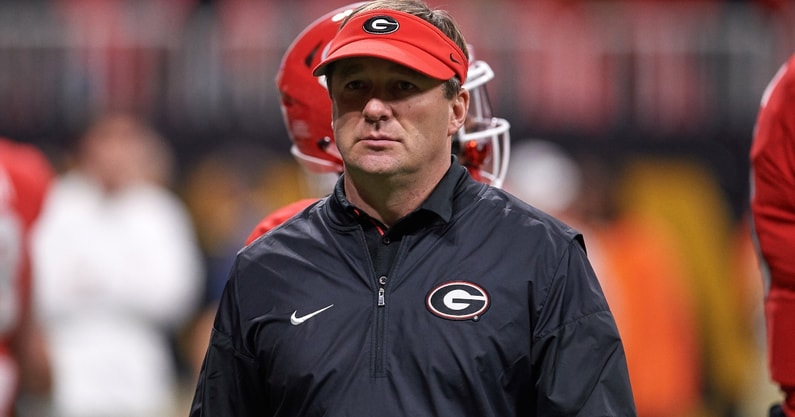 Georgia head coach Kirby Smart gave an update on a bevy of banged-up Bulldogs after a scrimmage on Saturday. From skill players to linemen, offense to defense, Smart ran through who was making their way back and who got a little beat up in the scrimmage.
Notably, running back Kendall Milton did not play in Saturday's scrimmage, though that did not cause Smart much concern. Along with Georgia missing one of their top running backs, receiver Kearis Jackson was limited during the scrimmage because of an ankle issue.
"Yeah we had some nicks and bumps and bruises today," Smart said. "I don't know the outcome of all those yet. Kearis, I think his ankle or Achilles was bothering him, so about halfway through the scrimmage — he though he could've gone on but we ended up holding him the back half of the scrimmage. Kendall did not go today, again, although he's much better. He's really close to being full speed, having not practiced, we're not going to put him out there, because he didn't practice before the scrimmage. But he should be back, full speed. Earnest Greene is still struggling with an upper leg injury."
CLICK HERE to subscribe to the On3 YouTube channel today for all of the latest news on college football, recruiting, NIL, more!
But it was not all bad news, as several players — Rian Davis, Tramel Walthour and Brett Seither — all managed to scrimmage, at least in part. Wide receiver De'Nylon Morrissette didn't get in the scrimmage, but is getting close to being back for Georgia, Smart said.
"Rian Davis did scrimmage today. It was really his first day back," Smart said. "He's been able to get up around 80, 90 percent velocity and speed. He was able to go a little bit today, didn't take many snaps. Tramel Walthour scrimmaged today. he was able to go today and do some thing. De'Nylon is running, hitting about 70, 80 percent, but he didn't scrimmage. So he did routes on air, he did indy, he did all the drill work. But we expect to get him back next week."
Seither, Smart said, has been dealing with a back injury but has done a lot of work with the trainers and looked solid in the scirmmage.
"He said his back's been bothering him," Smart said. "We've done a lot of work with him on that. He scrimmaged today, he did fine. He got some reps and did some work. But he's been in and out."