Kirby Smart reveals Georgia defensive back is ineligible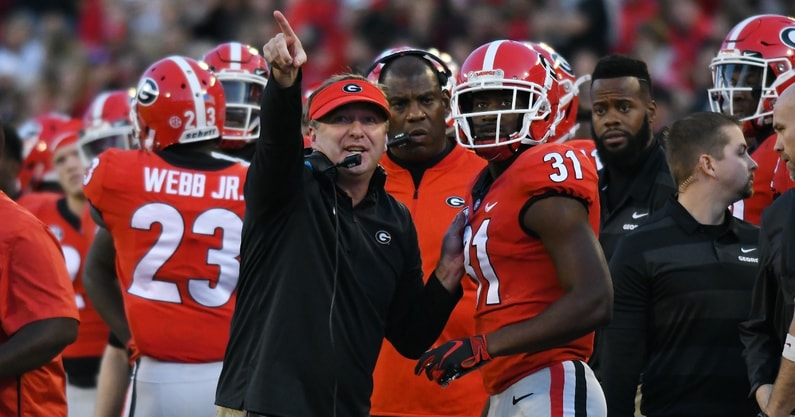 Georgia head coach Kirby Smart revealed defensive back William Poole is ineligible for the first four games of the season but will be back with the Bulldogs soon.
"William is ineligible for the first four games due to academics," Smart said on Tuesday. "But he did a tremendous job to get himself in that position to get back. He was not going to be able to play this year, he was able to get a waiver and he is now eligible after the Vanderbilt game he'll be back with us. So we're looking forward to getting his depth back to help us out"
When he returns, William Poole will be in his fifth season at Georgia. In the last four seasons, Poole has seen action in 22 games. In 2020, he appeared in six of 10 total games. Poole didn't record a tackle last season but was credited with a quarterback pressure against Arkansas.
William Poole's best season came in 2018, when Poole made his first, and only start of his Bulldogs career, posting 10 tackles and one tackle for loss in eight appearances.
Georgia has primarily rotated Clemson transfer Derion Kendrick, Ameer Speed, Nyland Green and Kelee Ringo at cornerback and Tykee Smith and Latavious Brini at the STAR position through the first two games. William Poole will look to add to the Bulldogs' depth at the STAR position, and potentially at cornerback as well.
William Poole will miss Georgia's conference opener against South Carolina and Vanderbilt the following week but will be eligible to return for the Bulldogs' game against Arkansas on Oct. 2.
Georgia's QB injury woes
In addition to William Poole, Smart offered an update on starting quarterback JT Daniels, who missed the Bulldogs' week two matchup against UAB, and added an update on Stetson Bennett, who started on Saturday in relief of Daniels. 
"JT (Daniels) feels much better he's continued to improve," Smart told reporters on Tuesday. "He's better now than he was Saturday. I don't know that he's 100% but he's certainly getting closer to that. Stetson (Bennett) is repping, JT is repping and Carson's (Beck) repping"
Smart added that Bennett is dealing with an injury of his own. 
"Stetson's actually got some lower back issues that he strained some stuff but he's able to go but I don't know if he's 100%," Smart said. "He's been dinged up since Monday morning but he went out and practiced as well. So they're all three practicing. I think Carson's 100% healthy but the other two are still pushing back."
Daniels missed Saturday's game against UAB with an oblique strain. In relief of Daniels, fourth-year quarterback Stetson Bennett was announced as the starter and went 10-for-12 for 288 yards and five touchdowns, winning SEC Offensive Player of the Week honors for his efforts.
JT Daniels and Stetson Bennett's recoveries will be closely monitored as Georgia begins conference play on Saturday against South Carolina.