Kirby Smart reveals how Michigan coaches helped motivate UGA ahead of 2021 National Championship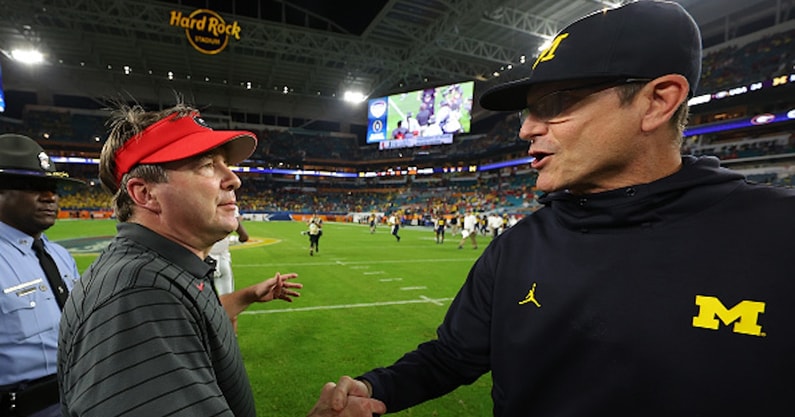 In his new book, How Bout Them Dawgs, Georgia coach Kirby Smart revealed how Michigan coaches helped motivate the Bulldogs ahead of the national championship game against Alabama.
It was an odd revelation considering Georgia smacked Michigan in the College Football Playoff semifinal 34-11 after racing out to a 27-3 lead at halftime. But Smart learned a few things about his football team from an outsider perspective.
Smart joined Sports Radio 92.9 The Game to promote the new book and explained what he learned from the Wolverines staff.
"Yeah, that was big, that probably I think gave us the biggest difference in the final game," Smart said. "It was almost a phone call that didn't happen. You know, it was not that long from the semifinal game to the final game and you got to use your time wisely. And a lot of times when you look back and talk to the opposing team you just played, you can gain some kind of insight maybe they had on you but that was a key ingredient talking to them. 
"They had talked to Alabama who had just beaten us in the SEC Championship, so they wanted information from Alabama. So some of the information we gathered from Michigan came from information they gathered from Alabama. So it was very unique to hear that perspective. And they gave us a little extra incentive and motivation on some things that Alabama had said about us. And of course, I was able to parlay that into motivation for our guys."
Smart revealed the reported insight was about Georgia's condition, which he learned from Michigan. Of course, the Wolverines got it from the Alabama perspective.
"Yeah, that was basically the gist of it," Smart said. "And I don't think you can do a lot in 10 days … there's a lot of programs out there, they're like okay, well we're not gonna hit, we're not going to do this. Right? We were a long way into the season. So you cut back and we saw it as an opportunity to crank up a little bit, do a little more with certain guys that needed it. And I thought it really made a difference. 
"It doesn't matter what Michigan told us if our kids didn't buy into it, right? Like the kids bought into it more because they heard it from a reliable source than it just came from me. So that part really helped and we had about five or six guys that got up at 6:30, seven o'clock in the morning, ran extra those 10 days. And really the conditioning level in the national championship game was a big, big piece to help us."