Kirby Smart reveals message to Stetson Bennett at the end of first half vs. Ohio State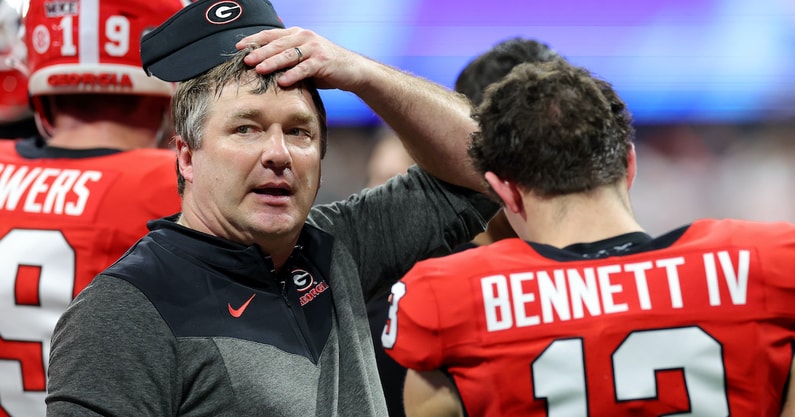 After an up-and-down first half for Georgia that saw them head into halftime trailing, 28-24, to Ohio State, Bulldogs head coach Kirby Smart was seen on the broadcast talking intently with quarterback Stetson Bennett as they walked off the field. It was the coach doing most the talking, though.
Bennett had nearly thrown an interception right before half as Georgia sought to be aggressive and score. Speaking with ESPN's Holly Rowe before heading to the locker room, Smart said Bennett needs to settle down because the Bulldogs will need him to win.
"Just settle down," Smart said. "We tried to show them some aggression, show maturity, let him go on second down and try and throw the ball. And he held on to the ball for a long time and threw over the middle. So, we're going to need him to win it. So he's gotta be able to throw it and catch it."
Bennett was 12-for-19 in the first half for 191 yards, a touchdown and an interception. He's also rushed for a touchdown.
In moments Bennett has been his usual self and Georgia has clicked along. If he settles down as Smart hopes, it might make for a long second half for Ohio State.
Smart demanded more physicalist in the second half
Coming out of halftime against Ohio State and trailing, 28-24, Smart wanted his team to up the physicality against the Buckeyes, according to ESPN sideline reporter Laura Rutledge. Smart particularly wanted this change along the line of scrimmage.
Smart wants to see this show up on defense, especially, in getting after Ohio State quarterback C.J. Stroud. The Bulldogs have struggled hanging with the Buckeye receivers and getting after Stroud gives the secondary some help.
"His final message to the team as they were running out: 'Win the fourth quarter,'" Rutledge said.
It wasn't the most auspicious start for the Bulldogs to start the second half as an offensive series ended with a punt and Ohio State quickly moved the ball into Georgia territory.