Kirby Smart says his three-peat prediction was inspired by Michael Jordan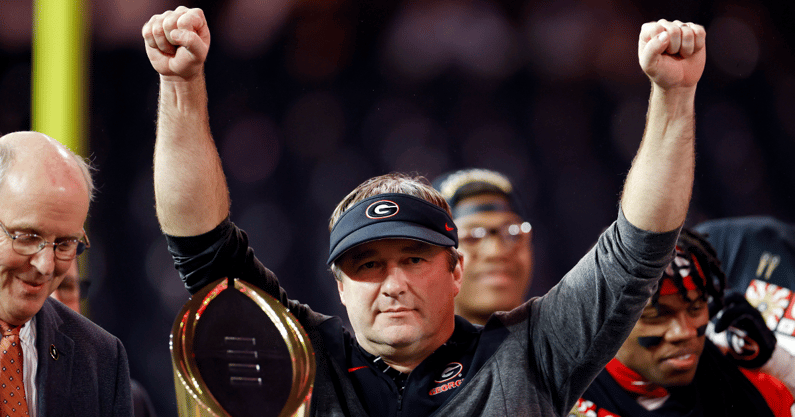 Georgia coach Kirby Smart was a big Michael Jordan fan growing up. Now he is hoping to follow in the NBA great's footsteps.
Smart led the Bulldogs to a 65-7 blowout win in Monday's national championship game against TCU, marking back-to-back titles. However, according to a report from ESPN's Rece Davis, he doesn't plan on stopping there.
Davis told SportsCenter's Scott Van Pelt postgame that, after the cameras went off, Smart held up three fingers to Bulldogs fans to indicate he is predicting a three-peat next season. Asked about the moment on SportsCenter the next day, Smart gave a nod to the Chicago Bulls legend.
"Ah that was just my Jordan," he told Davis. "I grew up watching Jordan and we always talked about when he used to do that. He was pretty special in my generation. [For kids now] it was Kobe, LeBron and much respect to all those guys. But my era it was Jordan and watching him do that after championships it just kinda told you that his mindset is 'we're not stopping.'"
Of course, Jordan twice led the Bulls to three consecutive NBA championships first from 1991-93 and later from 1996-98. To this day, it is considered one of the most dominant runs and greatest dynasties in all of sports.
Kirby Smart went on to say the gesture was to let Bulldogs fans know he plans on building something similar to what Michael Jordan did. Although he didn't want to outwardly declare that Georgia will reach the heights of the Bulls dynasty, it was clear he has big plans for the program.
"I told people last year, 'we're built to sustain," he said. "'We want continued success.' To say it's going to be that, I would never say that but I would say that we're going to continue success because we have a really good culture and a good fanbase. I want those fans to embrace that."
Since taking over at Georgia in 2016, Smart has led the Bulldogs to an impressive 81-15 record. That includes two SEC titles, three College Football Playoff appearances and of course now back-to-back national championships.
With the recent success of the program, many have already begun declaring Georgia the next college football dynasty. If Smart gets his way, they'll be absolutely right.