Kirby Smart shares the keys to building a successful program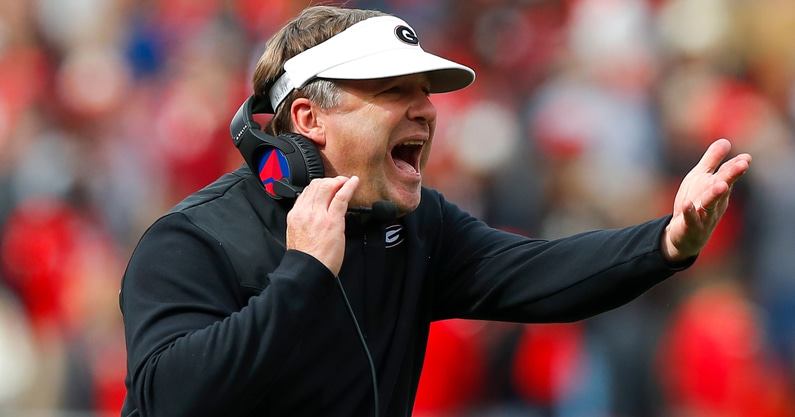 Georgia head coach Kirby Smart has taken the top-ranked Bulldogs program to another level under his watchful eye in Athens. After having spent several years as an assistant with Nick Saban at Alabama, it's clear that Smart knows a thing or two about building a successful college football program. In a press conference with reporters on Monday, he let them know his keys to building a successful program.
"I think building it on a strong foundation…to build a program you have to build it on a foundation of strong recruiting, strong people in your organization, retention of staff. Administratively, you've got to have tremendous support, because you've got to go out and hire all the things you need in recruiting. That's so important to have help," Smart said.
"And we've got tremendous help here in terms of our staff of our overall picture….the recruiting staff to the coaching staff to the support staff. All those roles matter so much. And I think signing good, quality high school football players is strictly important to building a program. You can't have a lot of holes from year to year…The holes will cost you when you have one lapse or a mass exodus at one position," the Georgia head coach said.
"We've been fortunate enough to recruit well and we've got a good recruiting base around us," he said.
Georgia's recruiting pipeline has never been better and Smart is a big part of that
Kirby Smart is an obsessive recruiter and his staff has been rewarded for that obsession. The Georgia Bulldogs currently have the nation's top-ranked recruiting class for the Class of 2022, according to the On3 Consensus Team Rankings. Jaheim Singletary, a five-star corner in the 2022 recruiting class, just committed to the Bulldogs on Sunday. His commitment helped to propel Georgia to the top spot in the rankings. Singletary is out of Riverside High School in Jacksonville, Florida. He's currently one of three five-star commits for the 2022 recruiting cycle for the Bulldogs.
The Georgia coaching staff were able to flip Mykel Williams from USC to Georgia back on Oct. 20. The 6-foot-5, 265-pound defensive lineman is currently rated as the 20th best overall prospect in America for the 2022 recruiting class, according to the On3 Consensus Rankings.
Thus far, the Bulldogs coaching staff has pulled in three five-star prospects, 14 four-star prospects, and six three-star prospects for the class of 2022.
Smart is well aware that successful recruiting is the lifeblood of any successful college football program and he's nailed that point home several times in interviews the past few weeks.
He and his staff are not only dominating on the field in the 2021-2022 season, but that on-field success and paid off in a big big dividends on the recruiting trail, unsurprisingly. As long as he's at Georgia, the Bulldogs' football program will be here to stay among the nation's elite.