Kirby Smart updates JT Daniels status, reveals other QB injury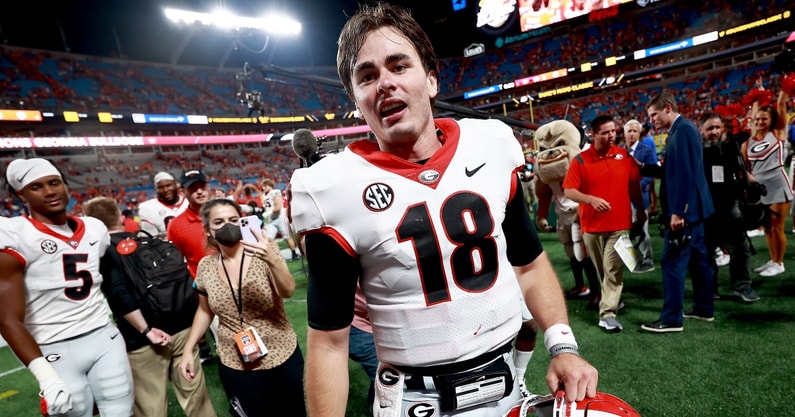 Georgia head coach Kirby Smart offered an update on starting quarterback JT Daniels, who missed the Bulldogs week two matchup against UAB, and added an update on Stetson Bennett, who started on Saturday in relief of Daniels.
"JT (Daniels) feels much better he's continued to improve," Smart told reporters on Tuesday. "He's better now than he was Saturday. I don't know that he's 100% but he's certainly getting closer to that. Stetson (Bennett) is repping, JT is repping and Carson's (Beck) repping"
Smart added that Bennett is dealing with an injury of his own.
"Stetson's actually got some lower back issues that he strained some stuff but he's able to go but I don't know if he's 100%," Smart said. "He's been dinged up since Monday morning but he went out and practiced as well. So they're all three practicing. I think Carson's 100% healthy but the other two are still pushing back."
Daniels missed Saturday's game against UAB with an oblique strain. After initial reports that redshirt freshman Carson Beck would start in relief of Daniels, fourth-year quarterback Stetson Bennett was announced as the starter in a pregame announcement, much to the dismay of Georgia fans. In the 56-7 win, Bennett silenced the boo birds and had the best game of his career. Stetson Bennett went 10-for-12 for 288 yards and five touchdowns, winning SEC Offensive Player of the Week honors for his efforts.
"I'm really proud of the way Stetson's handled himself," Smart said after the win on Saturday. "Nobody's been better to the University of Georgia than Stetson Bennett in terms of his work. He doesn't get as many reps as a lot of other guys, so I was proud of him and his success today."
Stetson Bennett started five games for Georgia last season and threw for 1179 yards and eight touchdowns to six interceptions.
Daniels started Georgia's final four games of the 2020 season after he was healthy enough to return from a torn ACL that he suffered while at USC. In four appearances, Daniels led the Bulldogs to a 4-0 record, going 80 of 119 for 1,231 yards, 10 touchdowns, and two interceptions.
In the season opening win over Clemson, JT Daniels went 22 for 30 for 135 yards and one interception in a defensive slugfest, where the only touchdown scored in the 10-3 Bulldogs win was off of an interception returned for a touchdown.
JT Daniels and Stetson Bennett's recoveries will be closely monitored as Georgia begins conference play on Saturday against South Carolina.
Smart reveals why he started Stetson Bennett, JT Daniels injury status
With Georgia dealing with some injuries and an overall young offensive unit, Smart stated he wanted to have an experienced quarterback running the offense against UAB.
"The decision to go with Stetson, we're really young offensively," Smart said after the game. "We have a lot of guys that are injured and out. I mean we just have a lot of young players that we're trying to grow up and we thought that it would give us a calming effect to have him and his experience, his ability to play in games. He played really well and really proud of the way he handled it. The plan was to play both of them. We went to two-one, two-one exactly like we planned on to get those guys reps.
Carson Beck saw limited action against UAB as well, completing four of 10 passes with 88 yards, one touchdown, and one interception.