LOOK: Lewis Cine releases movie poster following Georgia's national title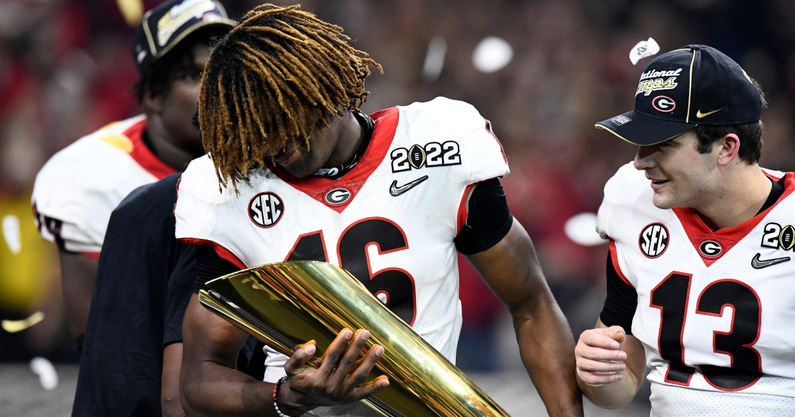 Georgia Bulldogs safety Lewis Cine played exceptionally well on college football's biggest stage, earning defensive player of the game honors in the National Championship. Following Georgia's victory, Cine tweeted a graphic, portraying him as "The Hitman."
Cine racked up seven tackles in the national title, game, also defending one pass. On the season, he totaled 73 tackles, two tackles for loss, one interception, and nine passes defended in 15 games. Cine, who just finished his junior season, has totaled 144 tackles, 3.5 tackles, two interceptions, and 14 passes defended in his three-year career with Georgia.
In the National Championship, Cine was part of a Georgia secondary that did a good job at keeping Alabama's offense in check. Alabama quarterback Bryce Young threw for 369 yards, but he also threw two interceptions and Alabama scored just 18 points.
Cine recalls how special Georgia's championship win was
The day after Georgia won the national title, Cine recalled what he felt as the Bulldogs secured the victory. A lot of the moments from Indianapolis on Monday night will be remembered forever.
"I think it's probably when the confetti came out, when everyone just ran on the field knowing the game was over," said Cine. "That's kind of a picture that will be ingrained in my head forever.
"It's kind of dope, in my opinion. And years ahead I can just bring my kids and my family over and be, like, I was on this team. I helped and I was a part of something great."
Cine has a special relationship with Georgia head coach Kirby Smart. He knows that Smart has given up a lot to ensure that the Bulldogs were in the best position possible to do what they did this season. Cine is forever appreciative for Smart, and he was happy to have been part of the team that gave him his first national title as a head coach.
"A lot of people already know, but last night we made history," said Cine. "The opportunity, the chance that we got to win and the person we did it for, Coach Smart, he sacrifices a lot for us. He sacrificed a lot for his family. And we didn't want anything more than to win it all for him."
Cine is one of many players on Georgia's defense that could be leaving the program to pursue NFL opportunities. But for now, he is still reminiscing on Georgia's special season.