Report: More details emerge on arrest of Georgia running back Kenny McIntosh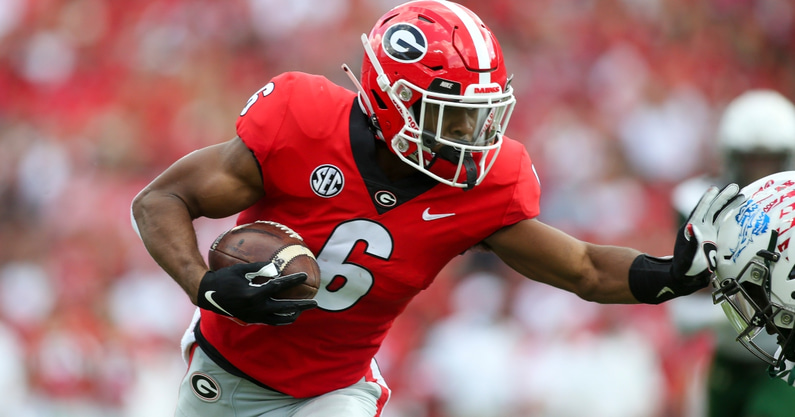 Early Sunday morning, Georgia Bulldogs running back Kenny McIntosh was arrested on multiple traffic violations, including misdemeanor charges of reckless driving and failure to wear a seatbelt. He was released on a $2,000 bond. On Monday, The Athletic's Seth Emerson reported additional details on McIntosh's arrest.
"More information on the Kenny McIntosh arrest for reckless driving: It came after an accident when, according to Athens-Clarke County police, McIntosh's car was going 60 MPH in a 40 MPH zone and collided with another car at around 4:05 a.m.," Emerson said. "The driver of the other car 'was complaining of leg and chest pain, and at one point lost consciousness on scene' and was transported to a hospital."
2022 NFL Draft prospect and former Georgia wide receiver George Pickens was reportedly in the car with McIntosh on Sunday.
McIntosh is in line for a bigger role in the Georgia offense next season following a few departures to the NFL Draft.
McIntosh is set to enter his fourth year in the Georgia football program
The 2019 season was McIntosh's first at Georgia. As a freshman that year, McIntosh had 25 carries in four games for 174 yards and two touchdowns, adding one three-yard reception. In 2020, he played in eight games with 47 carries for 251 yards and a touchdown, also contributing ten receptions for 111 yards in the passing game.
Last season, McIntosh played in 13 games with the Bulldogs, totaling 328 yards and three touchdowns on 58 carries, also adding 22 receptions for 242 yards and two more touchdowns. He has also returned 14 kickoffs over the past two seasons, totaling 375 yards and averaging 26.8 yards per return.
Last season, McIntosh was third on Georgia's team in rushing, trailing Zamir White (856 yards and 11 touchdowns) and James Cook (728 yards and seven touchdowns). With both of those players in the draft, McIntosh has an opportunity to immediately push for more playing time.