The best NFL fit for Georgia defensive tackle Jalen Carter in 2023 NFL Draft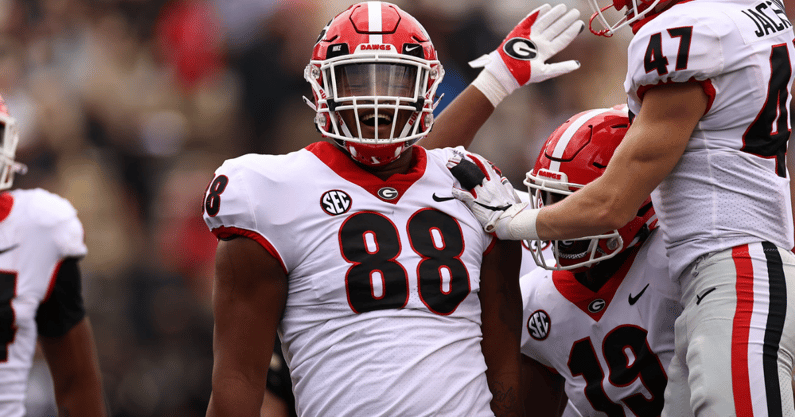 Georgia was well-represented at the 2022 NFL Draft, to say the least. The Bulldogs set a record with five defenders taken in the first round, but someone more talented than the lot could be coming in 2023 with defensive lineman Jalen Carter.
A budding star, Kirby Smart will be relying on Carter throughout Georgia's defense of their title. Looking ahead to the 2023 NFL Draft, Mike Renner of Pro Football Focus revealed the best fit for the Bulldogs star as it pertains to the NFL.
"Matt Eberflus needs his 3-technique. So much so that they nearly used all their available cap space this offseason to sign Larry Ogunjobi," began Renner. "Well, the 2023 draft features a 3-technique who is even better than Ogunjobi and could very well be the best we've seen in our eight years of grading at PFF.
"It was Carter who led all FBS defensive tackles — and Georgia defenders — with a 90.0 pass-rushing grade last season. That's unheard of for a true sophomore at the position."
If Carter makes his way to Chicago, he could be a transformative piece for the Bears defense. After trading away Khalil Mack to the Los Angeles Chargers, the Bears will be looking for one — and Carter would be perfect.
Nevertheless, there's plenty of time between now and the 2023 NFL Draft — but Jalen Carter will remain high on draft boards if he continues his progression.
Kirby Smart on Jalen Carter: 'We need him to play more snaps this year'
After losing three defensive lineman to the NFL Draft, Georgia must look to rebuild that unit as it hopes to repeat as national champions. Junior Jalen Carter leads the way as the biggest contributor from last season to return, but head coach Kirby Smart wants to see improvement as the role changes.
During a spring practice press conference, Kirby Smart provided the biggest area where Jalen Carter must improve entering the 2022 season for the Georgia defense to have success.
"Just consistency, I think he and I have talked about stamina," said Smart. "He has flash plays and he's really athletic, just playing with consistent effort. Because the talent is just oozing. It's a matter of, can he play every play with maximum intensity and be able to sustain? He was in a three-man weave triangle last year and it was easy to sub him because you weren't having any drop off when he went off the field.
"We need him to play more snaps this year. We need him to be on the field, we need him to be active, we need him to be able to play first, second, third in a row. Not first, second, and then some thirds. So can he do that? Can he go through offseason workouts and put himself in a position to be like Travon (Walker) from a stamina standpoint. And Devonte (Wyatt) worked so hard in practice that Devonte could play any number of snaps and still be fresh. We've got to get Jalen to be able to do that. And lead, set an example for the other players."
Over two seasons at Georgia, Carter has 51 tackles and three sacks, adding 11.5 tackles for loss and a pass deflection.