WATCH: Jordan Davis leads Georgia band after blowout Senior Day win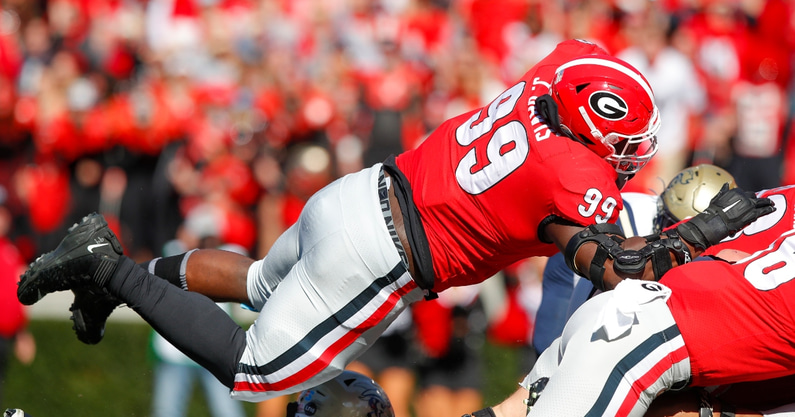 Jordan Davis will never forget this year's Georgia Bulldogs Senior Day victory. Georgia had no issues against Charleston Southern, easily walking away with a 56-7 victory. At the end of the win, Davis could be seen standing in front of Georgia's band and directing them.
Davis had a memorable day, and leading the band will be just one of many memories he made in Georgia's win. With the game scoreless early on, Davis got his chance on offense. Georgia was on the two-yard line, and Davis got two rushing attempts. The second attempt was enough to find the end zone, giving the Bulldogs a 7-0 lead.
Davis has been a big part of Georgia's winning season
Now in his senior season, Davis has had huge impacts on Georgia's defensive front. Entering Saturday's game, Davis had 23 tackles and two sacks. Those numbers might not seem overly impressive, but his impact doesn't always show up on the stat sheet. Davis is a force against the run, and his massive body makes it nearly impossible to create holes as an offense. He is likely to be selected early on in the 2022 NFL Draft.
Earlier in the season, Georgia head coach Kirby Smart had serious praise for Davis, saying he's as unique of a player he has ever coached.
"I've never had one like him," Smart said via ESPN's Chris Low. "Even Terrence Cody [at Alabama] was different. Cody had a sloppier body, but Jordan doesn't have a lot of body fat. He's 6-6, and we tell him that if he's in the 340s, he's dangerous."
When asked earlier in the year about the impact of Davis on Georgia, Smart had an interesting comparison.
"Godzilla like," Kirby Smart said about Jordan Davis. "He's impactful, an immovable object… He's been impactful in stopping the run and allowing us to play alternative coverages that you can't do sometimes when people can run the ball."