WATCH: Kirby Smart calls out team, Stetson Bennett after Peach Bowl win: 'I don't know that we're ready for TCU'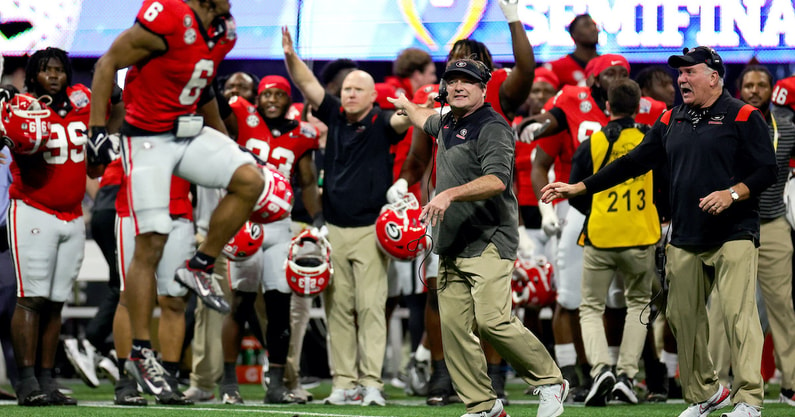 Following a 42-41 win over Ohio State in the Peach Bowl — one where Georgia survived a last-second game-winning field goal attempt that was missed — head coach Kirby Smart lamented some of the sloppy, subpar play from his team and quarterback Stetson Bennett. It was not quite the picture of a man who just won a College Football Playoff semifinal.
Speaking with ESPN sideline reporter Laura Rutledge after the game, Smart said Bennett had gotten outside of the system and was hamstringing the Georgia offense at times. If they want to beat TCU and win the National Championship Game, Smart said Bennett will need to play a lot better, despite a game-winning drive capped off with a touchdown pass with less than a minute to play.
"Well, he showed great competitive character. But he's got to play within our system. He's got to do what he's supposed to do, or you can't win games. He didn't get that opportunity until the defense stopped them. And we were fortunate to stop them a couple times," Smart said. "He must play better if we expect to win the next one."
Bennett finished 23-of-34 for three touchdowns and an interception and 398 passing yards, plus the aforementioned game-winning touchdown drive.
But the stats don't tell the whole story, and Smart will surely be on his team to shape up for the final game of the season.
"I don't know that we're ready for TCU right now, based on what I just saw, we got a lot of work to do. So I don't know enough about TCU. I know I respect their coach and their program and they've done a tremendous job today and we've gotta play better," Smart said.
But despite the tough love, the Georgia head coach commended his team for sticking with it, despite being down multiple scores at various points. They could've packed it up but didn't, and instead are going to be playing for a second-straight national title.
Great resiliency. Never say die attitude. Great toughness. At the end of the day, we didn't play real well. Ohio State probably deserved to win the game. But we never quit," Smart said. "We didn't play our best game, maybe they didn't either. We missed some field goals early that cost us. We stayed in the game, hit some big plays. I couldn't be prouder of these kids. This is a special group now. They've overcome and everybody's questioned them all year. And a lack of respect from Day 1 until now — I'm proud of 'em."