Why Kirby Smart feels that Zamir White, James Cook are at launch point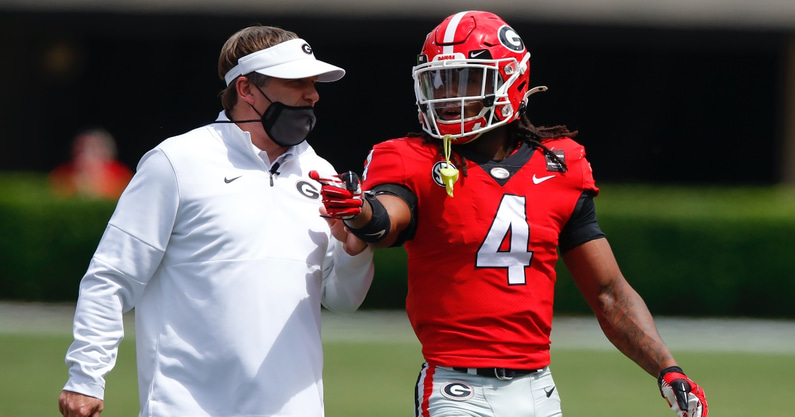 After a season-opening 10-3 win over Clemson, Georgia has hardly been challenged on either side of the ball. Despite injuries at quarterback and wide receiver, the Bulldogs' offense has yet to be stifled, largely in part to the running back rooms, headed by Zamir White and James Cook
"He (Zamir) is extremely physical runner," Georgia head coach Kirby Smart said. "He is 100% for probably the first time where he feels really good. He had an incredible off-season after the interruption of COVID, coming off a knee. You feel like he is hitting stride where his acceleration, his burst, his pass protection, his breaking of tackles, his yard after contact have been rally good."
Smart went on to praise Cook.
"I feel the same way about James," he said. "Those two guys are the heart and soul of at least our offense. How they go is sometimes how we go, and there's not always a bunch of big holes. They manufacture runs and keep us on schedule. Their leadership, more than their play, has been a key component to this team." 
In six games, Zamir White has rushed for 354 yards and six touchdowns. James Cook has rushed for 245 yards and two touchdowns, as well as a touchdown receiving. Both are averaging over five yards per carry.
Georgia has technically had a three-headed monster at running back. Second-year freshman Kendall Milton has rushed for 210 yards and one touchdown, averaging 4.7 yards per carry.
Headed by a stifling, potentially historic, defense, Georgia's offense opens games with explosive plays, before wearing down opponents on the ground in the second half with the game usually comfortably out of reach. The Bulldogs have outscored opponents 147-9 in the first half, then 56-7 in the third quarter.
Heading into Saturday's game with Kentucky, Georgia will likely lean on White and Cook once again. The Wildcats defense ranks sixth in the SEC in run defense, giving up 111 yards per game.
In his three-year career, Zamir White has rushed for 1,541 yards and 20 touchdowns, averaging 5.3 yards per carry. James Cook has rushed for 1,020 yards and nine touchdowns, along with 483 yards and three touchdowns receiving. Cook, the younger brother of Minnesota Vikings star running back Dalvin Cook, is in his fourth season at Georgia.
The top-ranked Georgia Bulldogs hosts No. 11 Kentucky on Saturday, as both teams look to remain undefeated.