JD PicKell explains why AD Mitchell is a frustrating loss for Georgia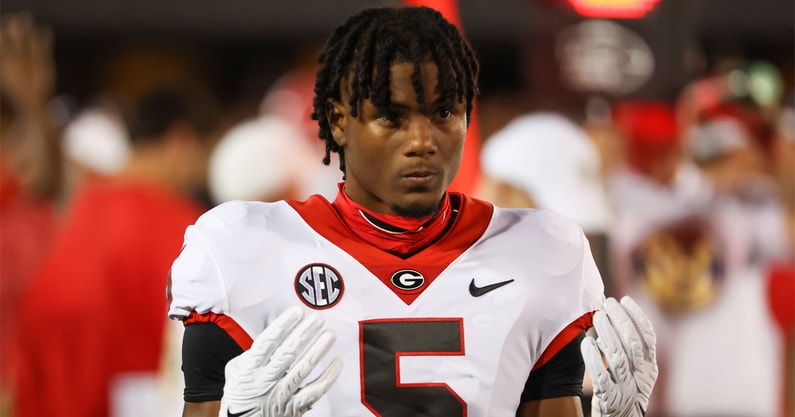 Not many things provide great drama quite like the NCAA transfer portal, even in the final days of its opening. Georgia losing wide receiver AD Mitchell to the Texas Longhorns was a surprising one, especially off the backs of winning back-to-back national championships.
While the Bulldogs have a loaded roster, this one is going to hurt according to On3's J.D. PicKell. Head coach Kirby Smart worked hard in the transfer portal himself, bringing in two great receivers from other SEC programs. But PicKell says Mitchell would have been the "alpha dog" among them all.
"It's a frustrating day for Georgia," PicKell said. "Because you're looking at the receiver room and you're saying 'man, we are going to be stacked and AD Mitchell has a really good chance to be one of the alpha dogs returning in that wide receiver room.'
"You went and got Dominic Lovett in the portal from Missouri. You had some guys. You were going to have some firepower in that room. You could still have some firepower but you don't have one of your key guys returning."
Mitchell did spend a lot of time injured while in a Georgia uniform, especially this past season. When he was on the field though, Mitchell was scoring touchdowns and almost exclusively in playoff games.
"AD Mitchell was banged up a lot last year but still had a touchdown to win the game against Ohio State, still had a touchdown in the national title game," PicKell said. "Had a strong 2021 where he caught another touchdown in the national title game. All he does is catch touchdowns. Losing him definitely hurts for the Georgia Bulldogs."
With seven career touchdowns for Georgia, four of them came during the College Football Playoff. Alongside the Ohio State score, Mitchell caught the go-ahead touchdown against Alabama in the eventual win. One of the more clutch players to play for the Bulldogs during this dominant two-year run.
J.D. PicKell explains what Texas is getting in A.D. Mitchell
Mitchell will be heading to Texas, where he could very well be the alpha dog in Austin. Xavier Worthy has established himself as a name under head coach Steve Sarkisian but somebody like Mitchell has been missing from the program over the past two seasons.
"A guy who is running great routes and is just a matchup problem," PicKell described Mitchell. "Multiple times at Georgia we saw him high point the football in one-on-one situations. If the ball is in the air, there is a good chance AD is coming down with it."
Quarterback Quinn Ewers will have a new weapon at his disposal, making the Texas offense that much more dangerous. Georgia's loss is one everyone in burnt orange will be loving for at least one season.