4-star point guard Skyy Clark commits to Illinois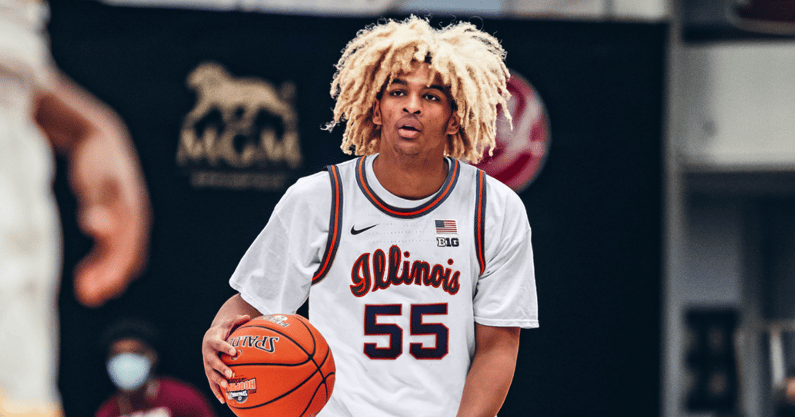 Skyy Clark, a 6-foot-3 point guard out of Montverde (Fla.) Academy has committed to Illinois, he tells On3.
The former Kentucky signee chose the Fighting Illini over Louisville, Tennessee, USC, Maryland, and Washington. Clark becomes Illinois' fourth commitment to the 2022 class. He joins four-stars Ty Rodgers (No. 66), Jayden Epps (No. 78), and Sencire Harris (No. 100).
Clark is rated as the No. 32 overall prospect in the 2022 class and No. 7 combo guard in the On3 Consensus, a proprietary algorithm that compiles ratings and rankings from all four major recruiting media services.
Relationships key in Clark's decision
After Clark decommitted from Kentucky, Illinois immediately emerged as the favored landing spot. Even Skyy confesses it was true. However, his decision to choose the Illini came down to relationships.
"Honestly, Illinois was the spot I was looking at after I decommitted.
"I've known Coach Tim (Anderson) since eighth grade. So I've known him for a long time.
"Me and Coach Tim have always kept a super-strong relationship," Clark said previously.
Previously at DePaul for four seasons, Coach Anderson recruited Skyy Clark to be a Blue Demon even before he entered high school. Some might say middle school is a bit too early to start recruiting, but it paid off, in the long run. Anderson was able to land Clark's commitment to DePaul as an eighth-grader. Amari Bailey — currently a five-star recruit signed with UCLA — committed alongside him. Eventually, the two ended up de-committing, because well, they were kids. However, in the end, Anderson won. He built a strong enough relationship so when Clark was looking for a new home, it was a no-brainer.
"Coach Tim is like an uncle to me," Clark says. "I trust him and what he's going to do."
Here's how much he trusts Coach Anderson… Clark hasn't even visited Champaign (yet). However, he says he will visit the campus on April 17th, after the Jordan Brand Classic.
Clark talks Brad Underwood and goal at Illinois
So besides his relationship with Coach Anderson, why Illinois?
"Illinois has proven they're a winning program. Coach (Brad) Underwood lets his guards play," Clark says.
The strength and conditioning program at Illinois was also encouraging. Clark tore his ACL at the beginning of the 2021 grassroots season and had to sit out and rehab for several months. He made his senior debut on January 6th, however, was sidelined once again while Montverde was crowned champion at Geico Nationals just days ago. It goes without being said, Clark's No. 1 priority is getting his knee strengthened so he can once again return to 100%.
"Illinois has one of the best-in-the-business strength and conditioning coaches, Adam Fletcher, so it made sense for me and what I'm trying to do," Clark said.
Once fully healthy, Clark plans to be an integral part of the team, and he and his future teammates are excited about what's to come.
"Really to just be the point guard and leading my team as far as we can go, and pushing my guys every day," Clark said of his role next year. "I spoke to a few of the guys. I've talked to Jayden Epps, Ty Rodgers, RJ Melendez…they're all super excited, I'm super excited to get up there with them and it's going to be a really fun time."
Lastly, Clark has one big goal to achieve while in Champaign…
"My goal is to win a National Championship. I got mine at Montverde, and now I'm going to try to bring one to Champaign. That's my goal."
Scouting Report
"Skyy Clark is a sturdy and compact lead guard. His explosion was one of his best traits before tearing ligaments in his knee in June of 2021. Clark possessed a quick first step and was able to elevate and take contact when attacking the basket. Re-gaining the burst and the confidence in his knee is unknown. He came back in January, around six months after the injury. While the explosion was not there, during his handful of games at Montverde (FL) Academy, Clark showed a smooth-looking jump shot and some glimpses of vision and play creation via the pass. The talent is evident; the question mark will be the confidence in making plays off his knee." – Jamie Shaw, On3's National Recruiting Analyst