Illinois, Brad Underwood land commitment from Amani Hansberry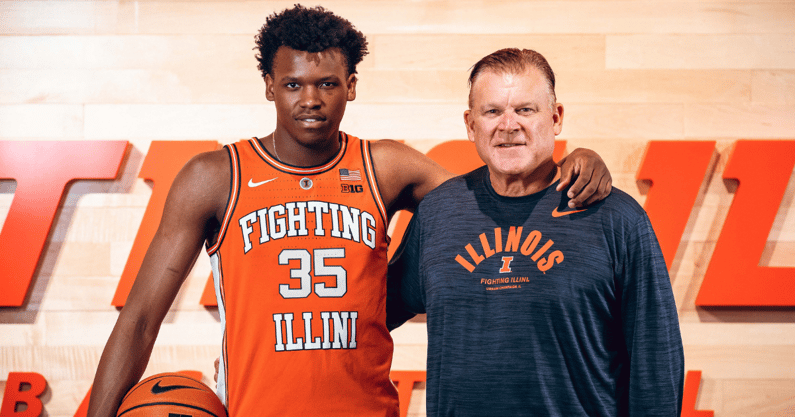 Baltimore (Md.) Mount Saint Joseph four-star rising senior Amani Hansberry tells On3 he's committed to Illinois.
Hansberry, a 6-foot-8, 220-pound power forward, chose the Fighting Illini over a final group of Miami, Penn State, Auburn, and Virginia Tech.
He also received offers from Villanova, Oregon, Tennessee, LSU, Georgetown, Kansas, and others. The big man is Illinois' first commitment to the 2023 class.
Hansberry is the No. 100 overall prospect in the 2023 class, according to the On3 Consensus, the average ranking from all four major recruiting media companies. He's also the No. 20 power forward and the No. 1 player in the state of Maryland. On3's evaluators are higher than the industry on Hansberry, ranking him 86th nationally in the class.
This summer, Hansberry averaged 12.5 points, 5.8 rebounds, 1.9 assists, and 1.3 blocks per game for Team Durant (MD) on the EYBL Circuit. He also shot 55 percent from the field and 88 percent from the free throw line.
Hansberry on his commitment to Illinois
"I chose Illinois because of the culture there and the fact I felt needed as a piece to their puzzle," Hansberry said to On3. "Every time I talked to Coach (Brad) Underwood and Coach (Chester) Frazier they always mentioned working hard, winning, and doing it together. I feel like that's the key to success and with the resources the program has in tech, strength, and conditioning, we will be successful."
What type of player is Illinois getting in Amani Hansberry?
"I'm the type of player who will do anything to win," Hansberry says. "A hard worker who values the art of the game and is ready for an opportunity."
Hansberry has a message for Illini fans.
"To the Illini fans, I'm ready to work. I'm looking forward to bringing a Natty to Illinois. I'm one of those everyday guys!"
Scouting Summary
Production. That is the first takeaway for Amani Hansberry. He simply goes about his business and gets his job done. He has long arms and great hands. Hansberry is a tough rebounder, has great instincts and 'want to' on the boards. He is a bit undersized, but makes up for that with a relentless, tough nature. Hansberry is an excellent passer, out of the half court or on the break. He can grab and go off the rebound, and make a play with great balance and timing. Hansberry has soft touch and can finish with both hands around the basket, can also step out and knock down a catch a shoot jumper with consistency. He is not afraid of the moment and seems to always come away, making that extra play that helps his team win. – On3's Jamie Shaw, National Recruiting Analyst