4-star PG Gabe Cupps makes it official for the Hoosiers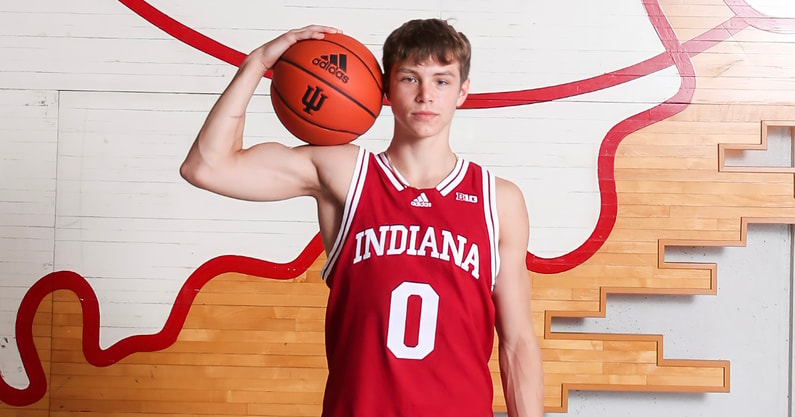 On3 Consensus four-star recruit Gabe Cupps has made it official, signing his National Letter of Intent to Indiana on Wednesday.
The 6-foot-2 center point guard from Centerville (OH) High committed to the Hoosiers back in November of 2021, beating out a final group that also included Ohio State and Stanford.
Estrella was Mike Woodson's second addition to their 2023 two-man recruiting class. He joins On3 Consensus four-star guard Jakai Newton in the class.
Cupps ranks as the No. 101 overall prospect in the 2023 class, according to the On3 Consensus, the average ranking from all four major recruiting media companies. He is the No. 17 point guard.
Why Cupps chose Indiana
"I think Coach (Mike) Woodson and his whole staff are going to do a really good job," Cupps said. "The biggest thing that draws me to them is just the challenge that it poses of bringing Indiana basketball back to the top. That's kind of what they've been preaching to me. Coach Woodson is there to get Indiana winning and back where they're meant to be. I think that's really intriguing because I've always been one to try to go for a challenge. If you can do that at Indiana, the payoff is endless. I just think that's super intriguing to me."
Scouting summary
Gabe Cupps is a heady point guard. He plays with a great pace and understands concepts and execution of exactly what his team is trying to do. Cupps is a smooth jump shooter with deep range. He shoots with good balance and can get to his shot off two dribbles in the mid-range or off the catch. There are athletic and strength questions, especially on the defensive end. Cupps knows how to run a team, and by all accounts, people love playing with him.
Cupps On3 NIL Valuation
Gabe Cupps has an On3 NIL Valuation of $295k. This valuation ranks him No. 21 in the On3 High School Basketball NIL Ranking. Cupps has a per-post value of $3.9k.
The On3 NIL Valuation is the industry's leading index that sets high school and college athletes' projected annual value (PAV). A proprietary algorithm, the On3 NIL Valuation calculates an athlete's NIL value using dynamic data points targeting three primary categories: performance, influence, and exposure.