Indiana star Trayce Jackson-Davis responds to harsh, odd fan message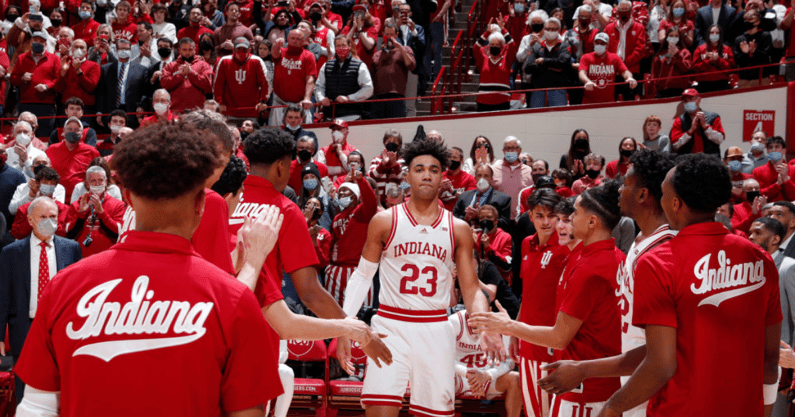 Expectations were high for Indiana entering this season and thus far, things are going well. Mike Woodson's team currently has a 10-3 record with a couple of impressive wins along the way. Having a preseason first-team All-American Trayce Jackson-Davis helps the cause as well.
However, not everybody is too thrilled with how the Hoosiers are playing at the moment. One fan took things to an extreme level, sending Jackson-Davis a harsh and odd message via sticky note. The big man was described as a "horrible leader." Indiana as a whole got some words thrown their way, calling the team soft.
Jackson-Davis took to Twitter to expose the person who wrote the note. Reactions from fans come with serious personal repercussions for players but Jackson-Davis will only use this as fire.
"You wonder why players experience mental health issues and problems," Jackson-Daivs said. "We are going to continue to get better as a team as we continue this journey. Thank you @TimWeaver20 for your words of encouragement! Go Hoosiers!"
Jackson-Davis decided to return to Indiana for a fourth season, hoping to lead this team toward some success in the Big Ten and NCAA Tournament. Alongside a cast of talented freshmen, a solid job has been done so far, if you ask most people.
Indiana is 1-1 in conference play, with a road game against Iowa next up on the schedule. It's Big Ten opponents the rest of the way for the Hoosiers and if results continue to be positive, they will be in a good position come March.
From a personal standpoint, Jackson-Davis has been playing up to standard. He is averaging over 16 points and bringing 8.2 rebounds in per game. The big man is not afraid to distribute either, dishing out nearly three assists a night.
Even if the criticism was warranted for the Indiana star, this post-it note message took things to a completely new level. Jackson-Davis will continue why they are wrong though, using this a fuel.