Fran McCaffery compares Auburn's style of play to Rutgers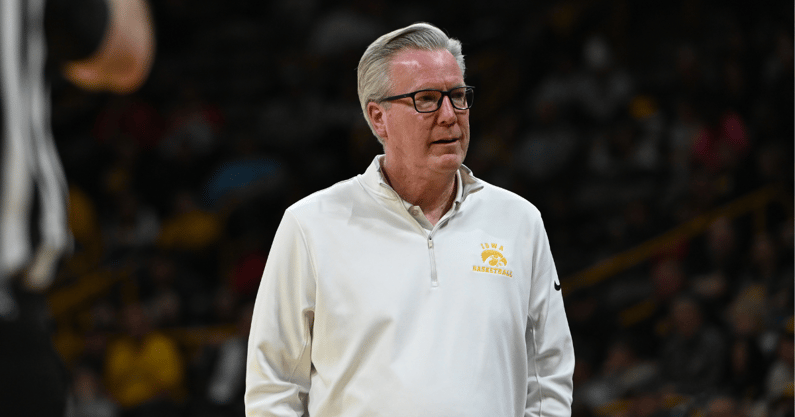 Fran McCaffery had an interesting comparison for the Auburn Tigers ahead of their showdown with Iowa in the NCAA Tournament.
According to the Hawkeyes leader, Bruce Pearl's squad reminds him of the Rutgers Scarlet Knights, who were snubbed from the dance on Selection Sunday.
"You know, I think they are different than teams in our league but there are components that are similar," started McCaffery. "Rutgers is one that comes to mind, half-court defense. Northwestern, half-court defense. And then you have teams like Maryland that are really quick and athletic like them. Indiana, same thing.
"So we've seen a lot of what we'll see in different ways from different teams in our league."
Moreover, McCaffery won't mind if the Hawkeyes capture the same result against Auburn as they had against the Scarlet Knights throughout the regular season.
The Hawkeyes first played Rutgers back on Jan. 8 in Piscataway, New Jersey, where they found victory by a score of 76-65. Payton Sandfort led the way with 22 points in the win, and forward Kris Murray wasn't too shabby either, scoring 17 points.
Rutgers hoped to avenge their loss when they took their talents to Iowa, but the Hawkeyes were victorious once again on Jan. 29, defeating the Scarlet Knights by a score of 93-82. Murray once again showed up big, scoring 24 points in that contest.
As Iowa enters the NCAA Tournament, they're coming off two losses, and a disappointing performance in the Big Ten Tournament. Meanwhile, Auburn didn't advance in the SEC Tournament either, but both teams will be hoping their fortunes are better suited for the NCAA Tournament.
Nevertheless, it's going to be an absolute battle between the Iowa Hawkeyes and Auburn Tigers on Thursday. The showdown tips off at 6:50 p.m. ET on TNT, as both squads hope to keep their season alive.