Fran McCaffery emphasizes shoring up defense against Auburn midway through 1st half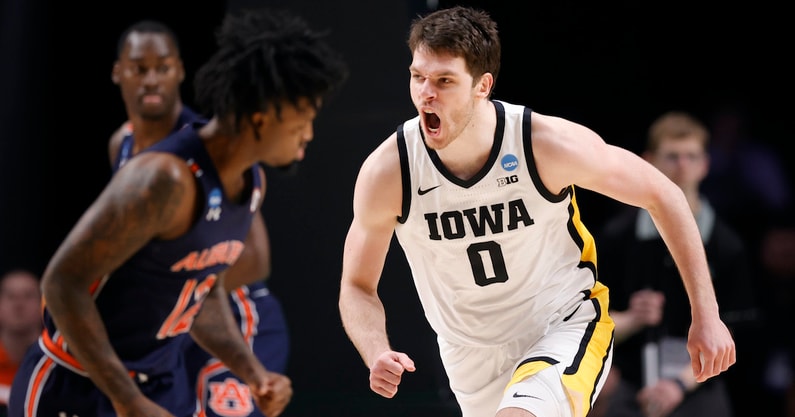 Midway through the first half of a close, back-and-forth contest between No. 8 seed Iowa and No. 9 Auburn, Hawkeyes head coach Fran McCaffery was generally pleased with how his offense was operating. His team was getting open shots, and he wants them to keep taking them.
Outside of one look just before a media timeout, McCaffery was pleased with the shot selection and said as much to sideline reporter Tracy Wolfson. He's certainly OK with star wing Kris Murray taking open shots, even if he misses.
"I thought most of them, Tracy, were good. Until the last one. That was a little quick, a little deep," McCaffery said. "Kris has had some open looks, we'll keep shooting those."
Iowa had struggled early to keep Auburn from penetrating into the middle of the defense. McCaffery specifically noted the need to wall off Allen Flanagan, K.D. Johnson and Wendell Green Jr.
"Well they're getting to the rim a little bit. They've got a lot of quickness. Flanagan, Johnson, Green, just gotta make sure we're walling them off," McCaffery said.
A few minutes later, speaking to Wolfson, Auburn head coach Bruce Pearl was also fairly pleased.
Auburn put a pretty tight lid on the often explosive Iowa offense in the first half of a Round of 64 matchup between the pair of squads. And Pearl, coaching the No. 9 seed Tigers, was highly complimentary of the way his team was defending.
Pearl had good words about the defense. Specifically, he thought some of the switching Auburn was doing had caught the Hawkeyes off guard.
"They've missed some open shots, that's helped us a little bit. Our ball pressure is pretty good. We're switching a lot right now, which I don't know whether they anticipated. We've got some mismatches on the inside and I'd imagine right now they're trying to take advantage of them," Pearl said.
Whatever is working for Auburn, the Tigers are likely to keep riding with it as the Hawkeyes had just 20 points at the under four media timeout.