Bill Self gives honest answer when asked if he expected this year's success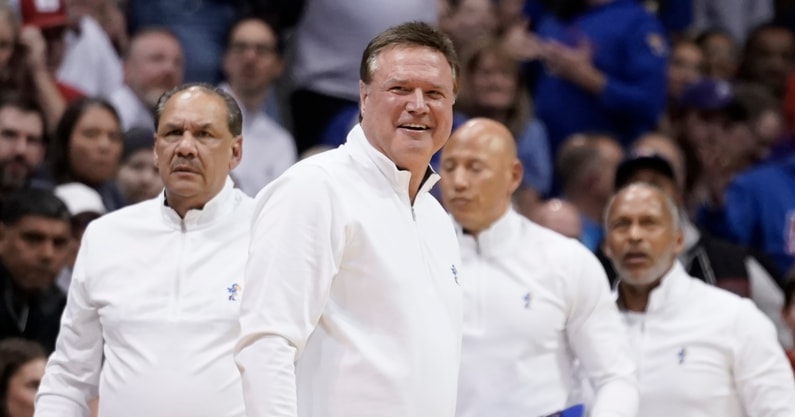 However much credit Bill Self gets as a basketball coach, it's simply not enough. Now that the old guard of the North Carolina–Duke rivalry, Coach K and Roy Williams, are gone, Self is king of the castle in college hoops, and punctuated the handing of the torch by defeating Carolina in in the national title game the same year K retired. It was poetic, really. But more than the championships and tournament success, Self's reign over the Big 12 is arguably his most impressive accomplishment.
The sheer domination of that conference since he took the Kansas job is Wooden-esque. Heck, he's going up against more competition in conference play than those old UCLA teams faced in entire seasons. Detroit Mercy's Antoine Davis may or may not get the opportunity to set the all-time scoring record previously set by Pistol Pete Maravich —and if he does, that record may be unbreakable. But a record that seems even more likely to be matched or broken than the scoring crown is Bill Self's 14 straight Big 12 regular season titles.
Players changed, U.S. presidents changed…shoot, the whole Big 12 was realigned a few times. Yet, from 2005 to 2018, Bill Self's Kansas teams won the league every single year. Now, in the last few seasons, other contenders were able to break through and win the conference crown. However, 2022-23 marked a return to normalcy as Kansas clinched a share of the regular season crown this week — their 17th in 20 years with Self.
After winning the Big 12 title once more, the Jayhawk head coach himself simply said it's an expectation at this point.
"I'll be honest with you, I always envision us having good years, so I've never not envisioned us having a good year," said Self following Kansas' win over Texas Tech. Although, before the Jayhawks rattled off seven straight league wins, the likelihood of winning another conference championship did seem far-fetched.
"I think this year's league is better that it's probably not surprising after we got into the year. But if you told me before the year that this team would do what they've done this year and accomplished what they've accomplished so far this year, I would have said that would probably have been a little bit of reach. We're 6-4, we've got to go run off seven in a row to put us in position to win to get at least a share of it. That didn't seem very likely at that time but the kids are tough. They find a way to win even when we're not very good. And then that was certainly what happened tonight."
After that 6-4 start to Big 12 play, Kansas won seven straight and will try to win an eighth at Texas to end the regular season. By the way, six of those seven victories were Quad 1, too. No matter how you slice it, this year is just an incredible coaching job by Bill Self. Sure, such success is taken for granted at this point because of his immaculate record, but sometimes it's nice to stop and smell the flowers. Bill Self, a reigning national champion and winner of the best conference in college hoops, again, is the sport's premier staple now.