Bill Self says Kansas' Dajuan Harris 'deserves' national attention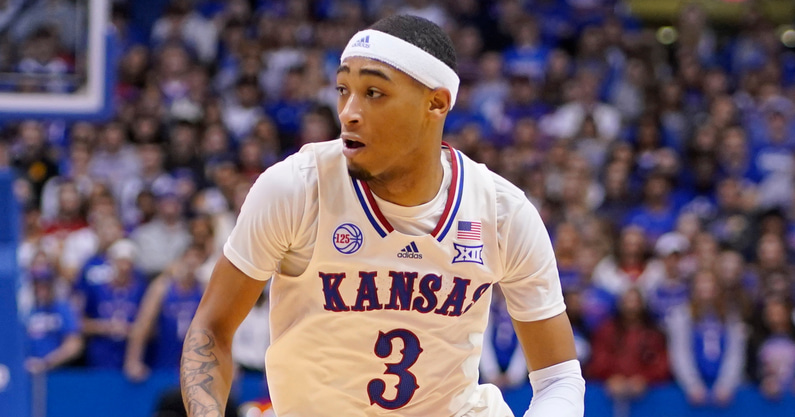 Kansas' 80-74 win over NC State on Wednesday was highlighted by 25 points from Gradey Dick and 19 from Jalen Wilson, but the play of Dajuan Harris also drew headlines for head coach Bill Self. After the win, Self detailed what makes Harris special and hopes that he gets more national attention while playing in the Bad Boy Mowers Battle 4 Atlantis.
"The worst play he made was when he threw the ball up the sideline out of bounds and we got four points out of it. That was the worst play that he made," Self joked. "If people studied him, which people don't, because he doesn't just jump off the page. He's as good a winning guard as there is. The kid just makes plays. The little play he made when he had the 5-1 switch late, he drives him and makes a hard, five-foot hook shot. He's a better shooter than what he gets credit for and I hope this tournament helps him be seen nationally in a way that he deserves to be seen."
While he did not lead the Jayhawks in scoring, Harris did a little bit of everything in the game. Harris went 4-of-7 from the floor for 14 points. He also dished out six assists and had three steals, as well as two rebounds. Wednesday marked the second straight game that Harris has gone for 14 points in a game.
It is still early in the season but it already looks like Harris could be a crucial piece for the Jayhawks this season as they look to defend their national championship. Harris is averaging 10 points, 6.2 assists and 3.2 rebounds per game. While players like Dick, Wilson and others draw heavy attention, Harris finds a way to make his impact felt.
Kansas not starting slow in 2022
Despite losing a heavy majority of last year's title team, the Jayhawks appear to have not missed a beat. Kansas is off to a 5-0 start on the season. Wilson leads the way, averaging 23.4 points per game, while Dick is contributing 18.4 points per game to go along with Harris' 10.
The Jayhawks look to advance to the championship game of the Battle 4 Atlantis today. Kansas faces Wisconsin at 11 a.m. ET in the semifinals. The game can be seen on ESPN.