Dajuan Harris leaves Kansas vs. Arkansas following awful-looking injury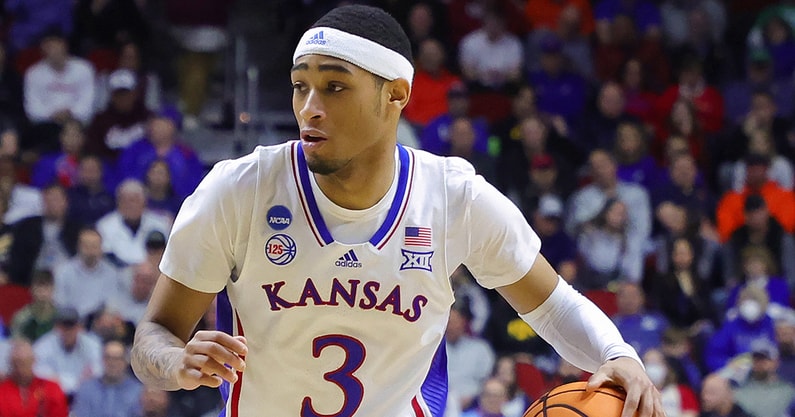 Kansas guard Dajuan Harris left Saturday's Round of 32 matchup against Arkansas with an apparent ankle injury. He headed to the locker room immediately afterward.
Harris went up for a block with 3:07 to play in the first half and appeared to step on a photographer on his way down. He twisted his ankle on the play and pointed at his foot as the trainer came out to tend to him. On his way to the locker room Harris walked off under his own power with a limp.
Coming out of halftime, a Kansas official said Harris suffered a "sprained ankle" on the play, according to The Kansas City Star's Gary Bedore. However, he gave participated in warmups as he prepared to keep play. CBS' Allie LaForce confirmed the injury with acting head coach Norm Roberts and Harris was on the court to start the half.
"I spoke with Coach Roberts, who said it's a sprained ankle," LaForce said. "We saw him jog out. He wants to see how well he can play through it, so they're going to give it a go."
At the time of his injury, Kansas had a 29-21 lead over Arkansas and the Jayhawks ended up taking a 35-27 advantage into halftime.
Harris, the 2023 Big 12 Defensive Player of the Year, is a key piece for Kansas this season. He leads the Jayhawks with 2.2 steals per game to lead the defense, but is also a proven facilitator with 6.3 assists per game.
Losing Harris' defense is huge for Kansas against Arkansas, which brings quite a bit of NBA talent into the game. Nick Smith Jr. and Anthony Black both appeared in ESPN Jonathan Givony's latest NBA mock draft, and ESPN analyst Dick Vitale argued the Jayhawks already had their hands full even before Harris' injury. The Razorbacks' roster is filled with size and athleticism, which makes them a tough matchup.
"I think one thing you look at Arkansas, Rece, having Nick Smith back healthy is really a big plus," Vitale told Rece Davis on College GameDay on Saturday. (Ricky) Council certainly can play, and (Anthony) Black, and they're very athletic. And I think also, for Arkansas, they got a real break playing Illinois. Illinois has some elite athletes and I think that will help them in preparation for a game like this. So I really think this can be a real tough game when you look at Kansas right now, the Jayhawks."